Shopping Cart
Your Cart is Empty
There was an error with PayPal
Click here to try again
Thank you for your business!
You should be receiving an order confirmation from Paypal shortly.
Exit Shopping Cart
| | |
| --- | --- |
| Posted on June 22, 2011 at 11:36 AM | |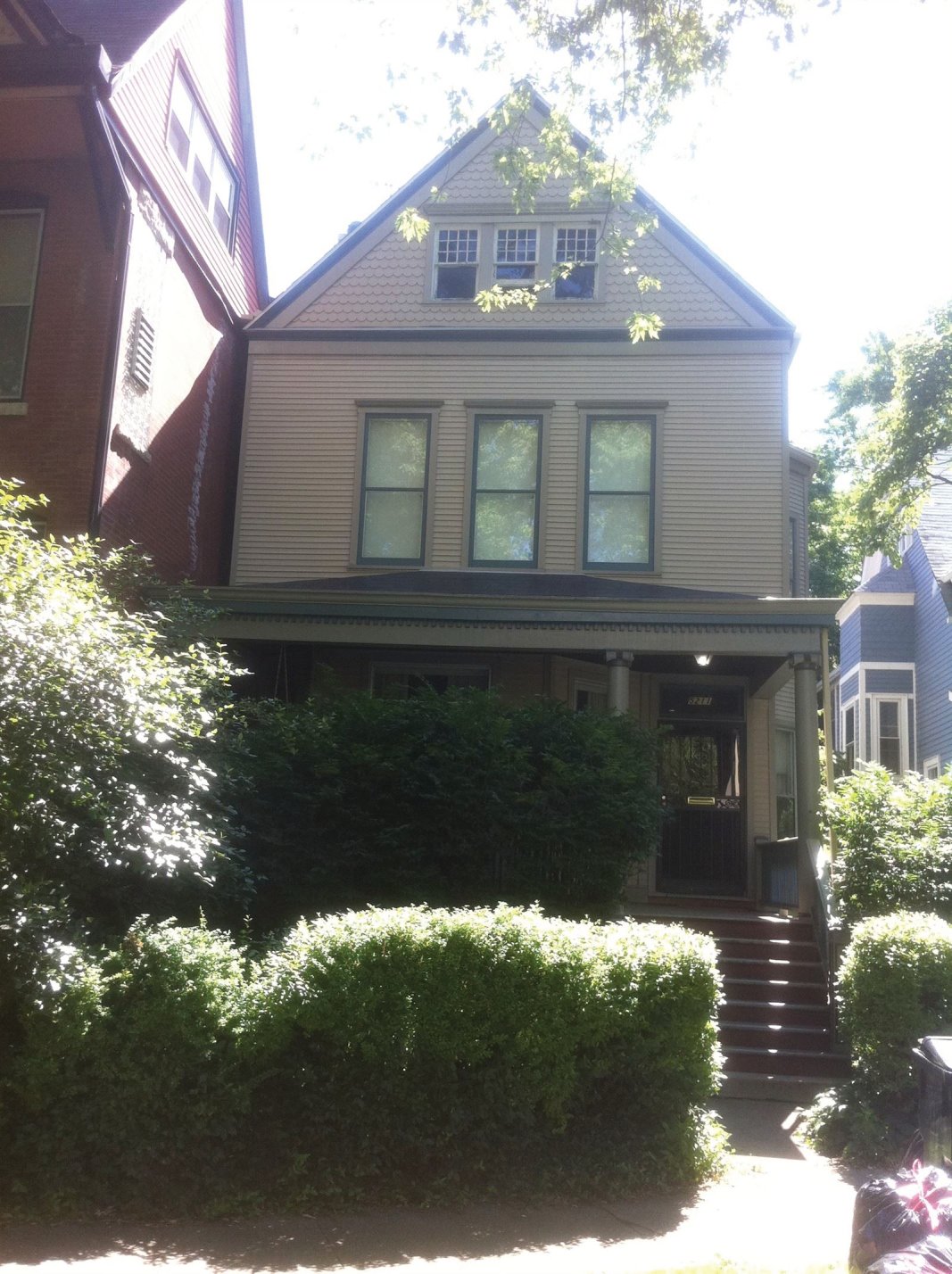 We are in the 4th week of a total rewire on the 5200 block of S. Kenwood. This has been a very tough job, due to a number of factors, the heat not the least of which. This is a very lovely Queen Anne from the 1890s, and the period detail is gorgeous. But like most wooden framed buildings of this vintage, there is nary a stick of pipe in the the walls. Everything is in BX, all of the wiring, except for the surface mounted conduits on the basement ceiling that were added in the 50s or 60s. But all of the original wiring, the old cloth-covered wire, is in BX. That means all of it has to be taken apart and removed. Which means a TON of cutting the walls and ceilings. On the first floor, the original lathe and plaster over the ceiling joists is augmented by a second layer of wire mesh plaster, requiring us to have to cut full channels in the ceiling rather than the smaller holes that we can usually do. It has been quite a demanding job. Plus the home is fully furnished, so we are working around furniture. We have had to tape heavy paper to the floors and cover as much as we can with plastic. This type of rewire is really like a whole house renovation, and thank heaven the owners were able to have other accommodations while we have been doing it. With each whole house rewire in an occupied home, I am being more blunt with the customers about just how dirty it really is, and how much more expensive it is to do it. If it is at all possible to do this type of job before they move in, I am highly encouraging it. I have been through it many times now, and almost uniformly the clients are taken aback by how dirty and dusty and invasive in every way the job is. I understand (At least I think I do) how stressful the major disruption in life can be on a family when their home is in this state. I strive to minimize it, (cover, clean, sweep, repeat. repeat.repeat.) and forewarn them as best I can, but I really  believe that it is much better to overemphasis it than downplay it.
If you are reading this, (silly question of the week?) and have any experience with this type of thing, please do post your reply/comments here or on our facebook page. I would estimate that the cleaning/covering/ preventive measures/working around items adds about 25-30% in labor cost for us on this type of job. If you have ever had any of this type of work done, and the contractor did not do a very good job of containing the dirt/dust or did not warn you sufficiently beforehand, how did it effect you? Were you able to "rough it out" and see it as part of the game, or did the stress truly make life miserable. Would you have been willing take a bid that was 25-30% higher in labor cost (15% total cost, approximately) in order to have that part of the job handled better? Please feel free to comment. It is very hard to get feedback on these things, I welcome your replys and comments.
I have recently lost a few quotes where it was a similar job, and in one case the client did tell me the other quotes were coming in at about half of what I quoted the work for. There are a few issues at play here, one of which is how many corners a contractor will cut. There are many rules regarding circuit design, number and layout that can be skirted, situations where the client will never be the wiser. I always encourage my clients to do the jobs with a permit, because that brings in an "extra" set of eyes and expert review by way of city inspectors. But even when they do not want one, I still do my jobs 100% up to the highest standard. Of course this requires more time, attention to detail, thoroughness. And that raises the cost. We have had pretty steady work this summer thus far, but I do worry and get a bit down, personally, when I hear we were twice the price of the other contractors. I never "buy the job" by quoting way low knowing there will be "unanticipated" expenses I can hit the client with later. I do believe the quality of our product speaks for itself. But it's hard to prove a negative, and its hard to explain or point out or forewarn people of all they may not get when they take that low price. They may tend to think I'm exaggerating, or just trying to "sell them."  If anyone reading this has any comments on this subject, I really would love to hear them.   
Back to work.  I'll post pictures later.
PS If your name is Katie O'Neill from the South loop, please call back! Your message on the machine cut off before any numbers were recorded. Or of course you can email us.
Thanks!
Categories: Total rewires
/