Shopping Cart
Your Cart is Empty
There was an error with PayPal
Click here to try again
Thank you for your business!
You should be receiving an order confirmation from Paypal shortly.
Exit Shopping Cart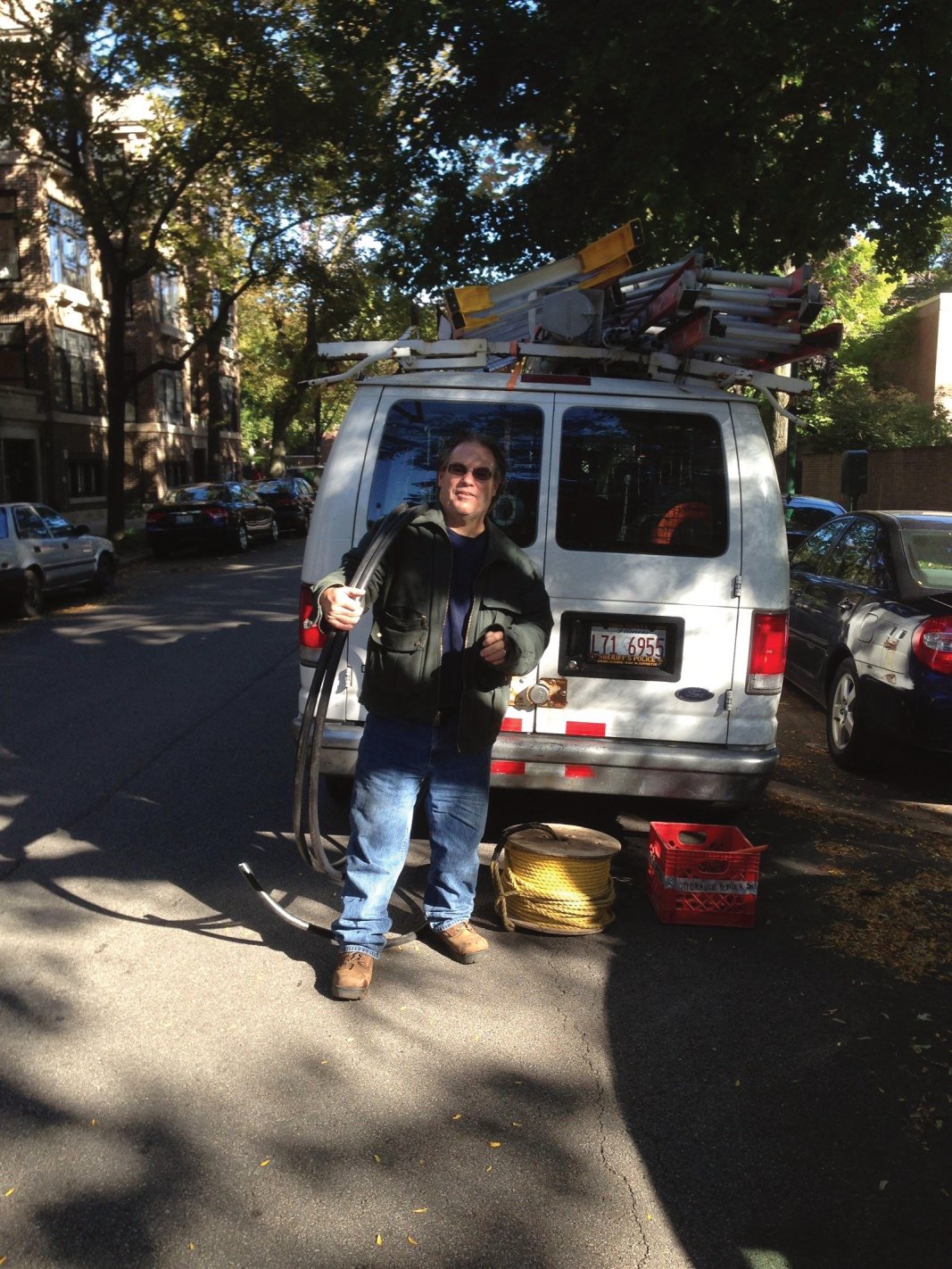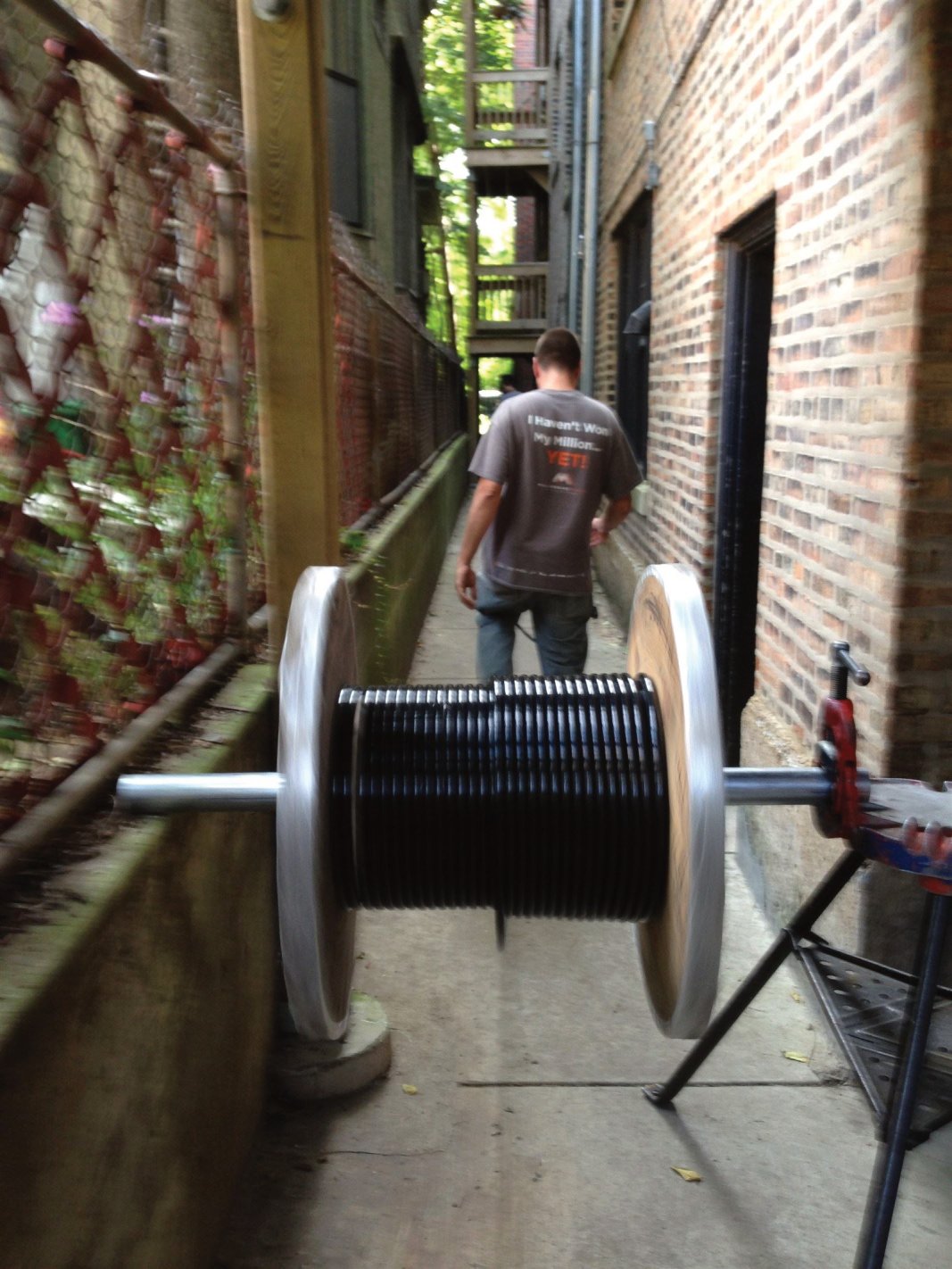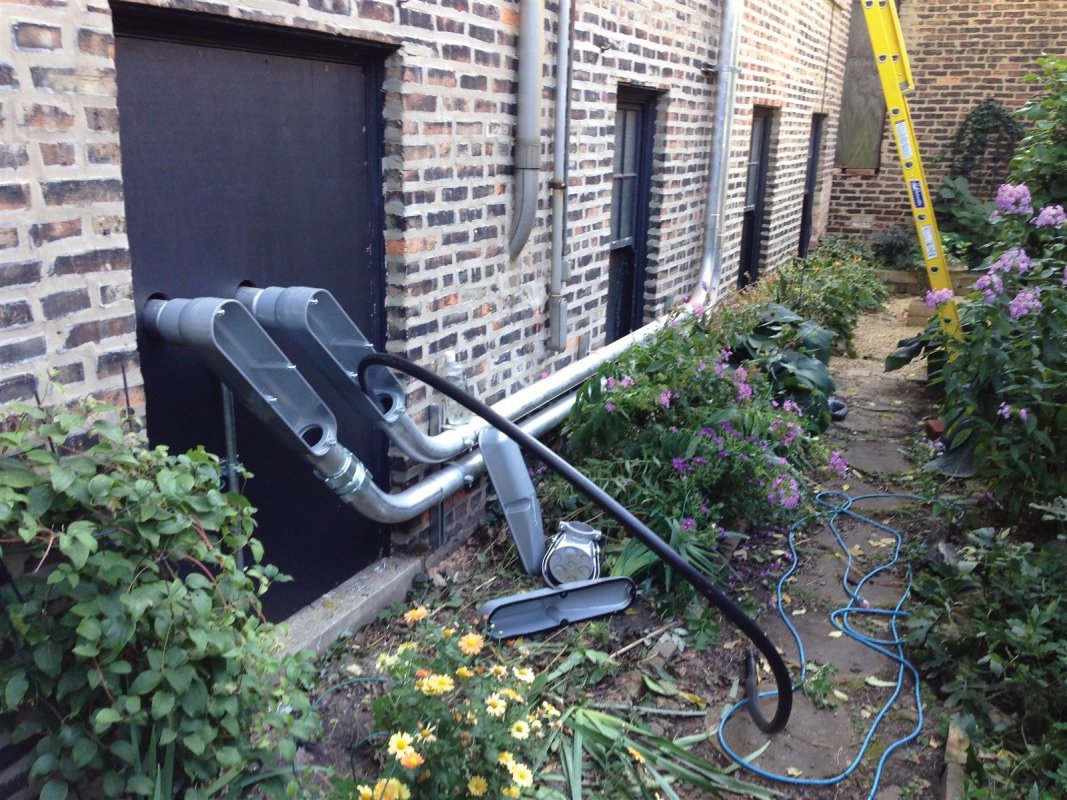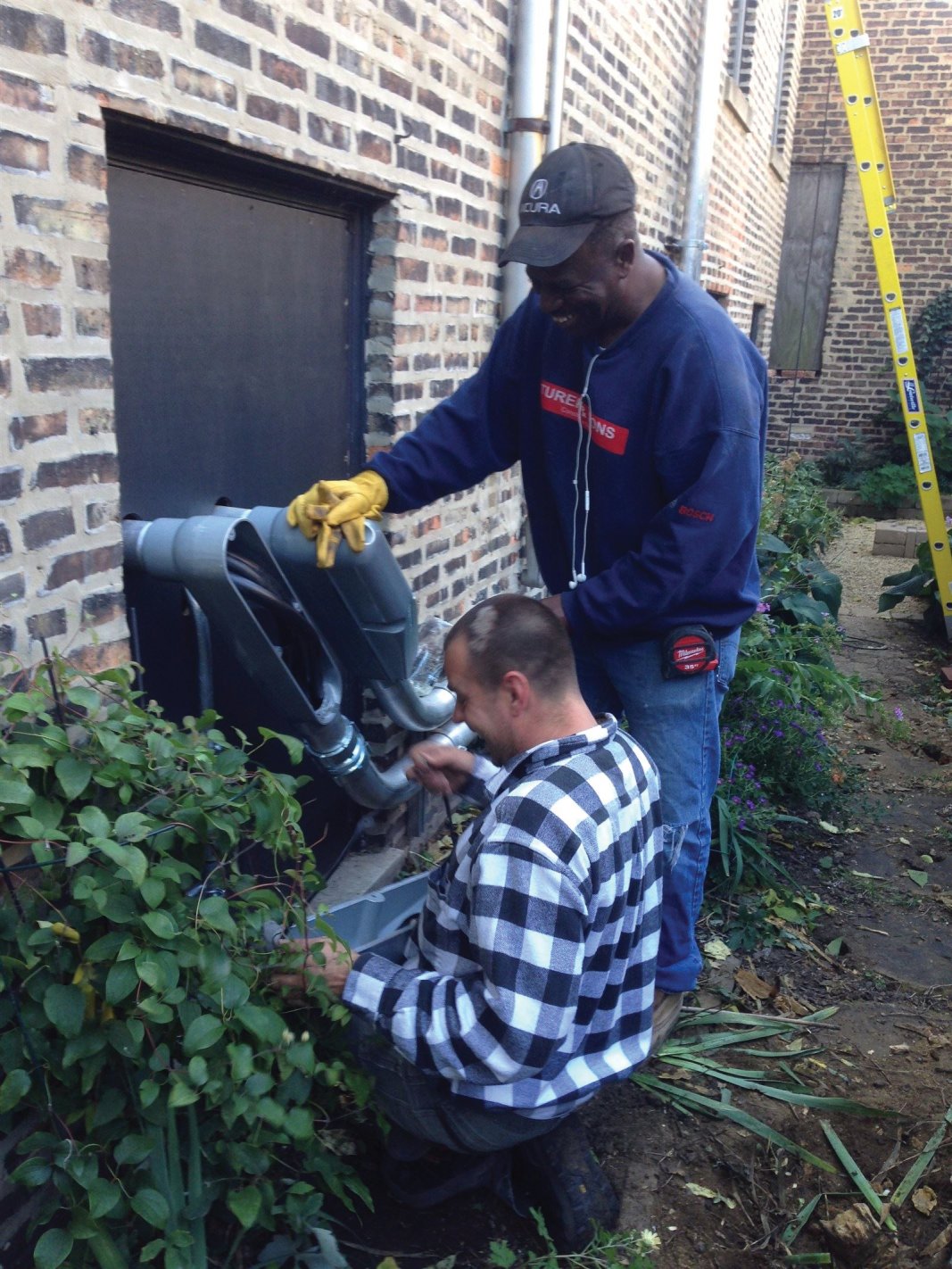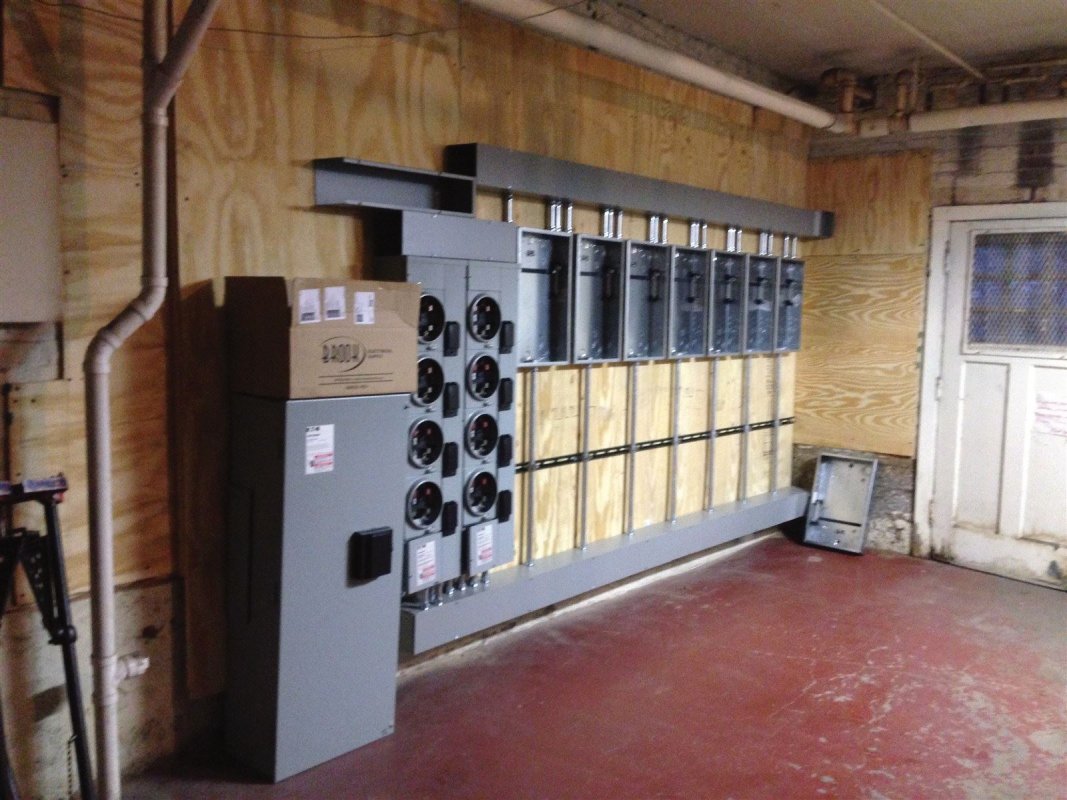 We are starting to close in on wrapping up this new 800 Amp service job on the 5600 block of Blackstone. Today we were pulling the big feeder cables outside. They are totally upgrading the amount of power available to the building, as well as replacing the antiquated little breaker panels (whose circuit breakers, being 40 yrs old, have about a 50/50 chance of actually tripping when they should) with all new 20 circuit breaker panels. This condo association will be ready for the new Millennium!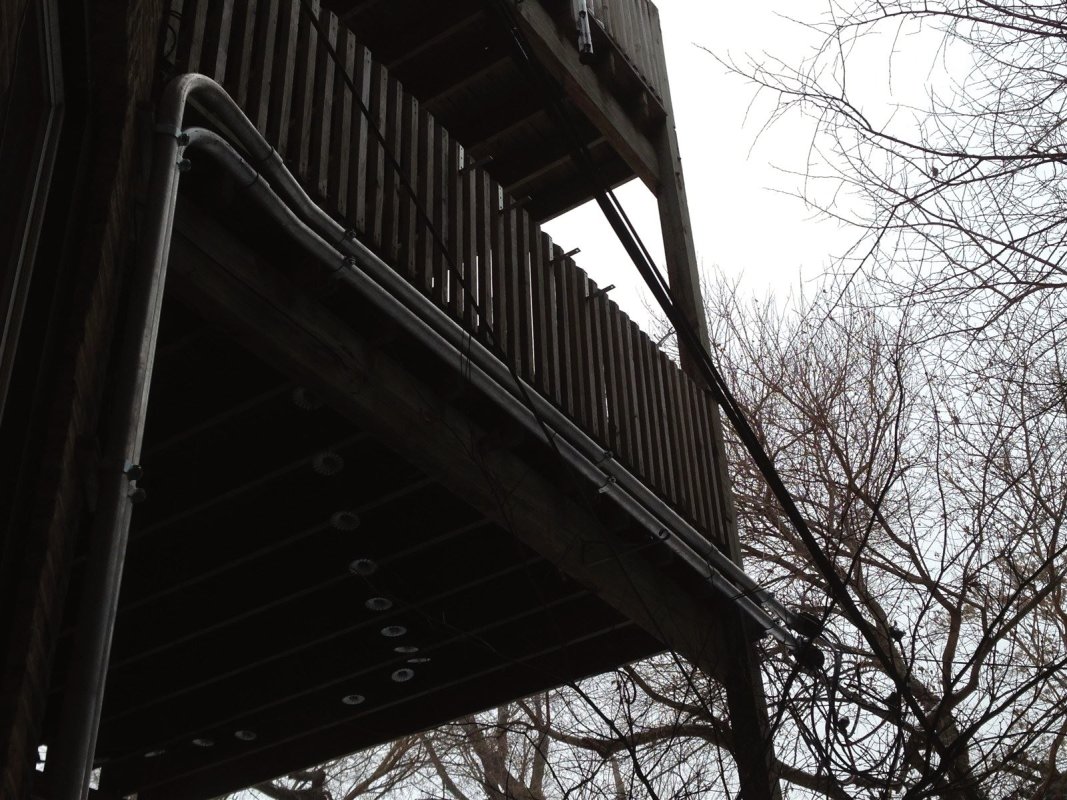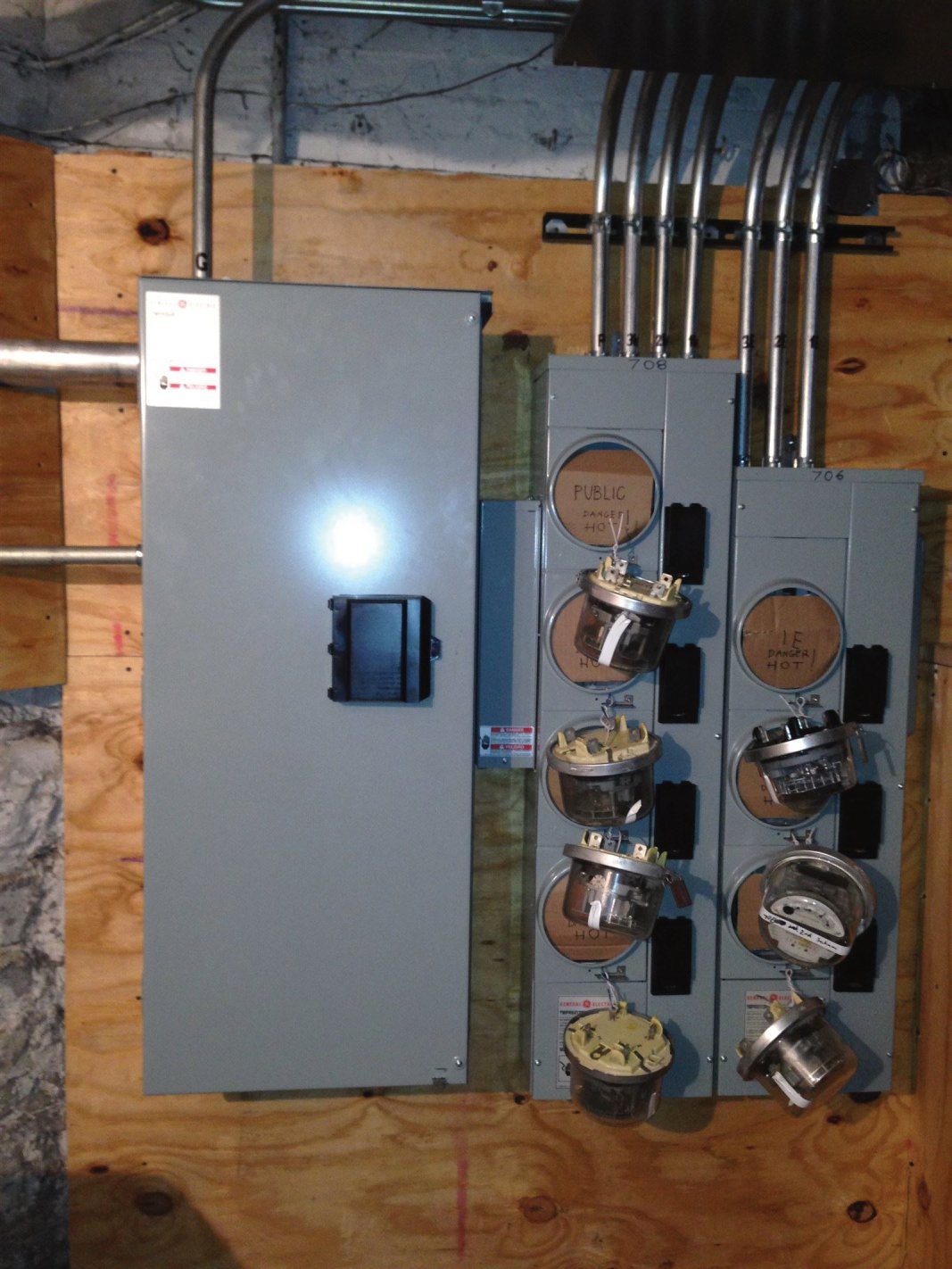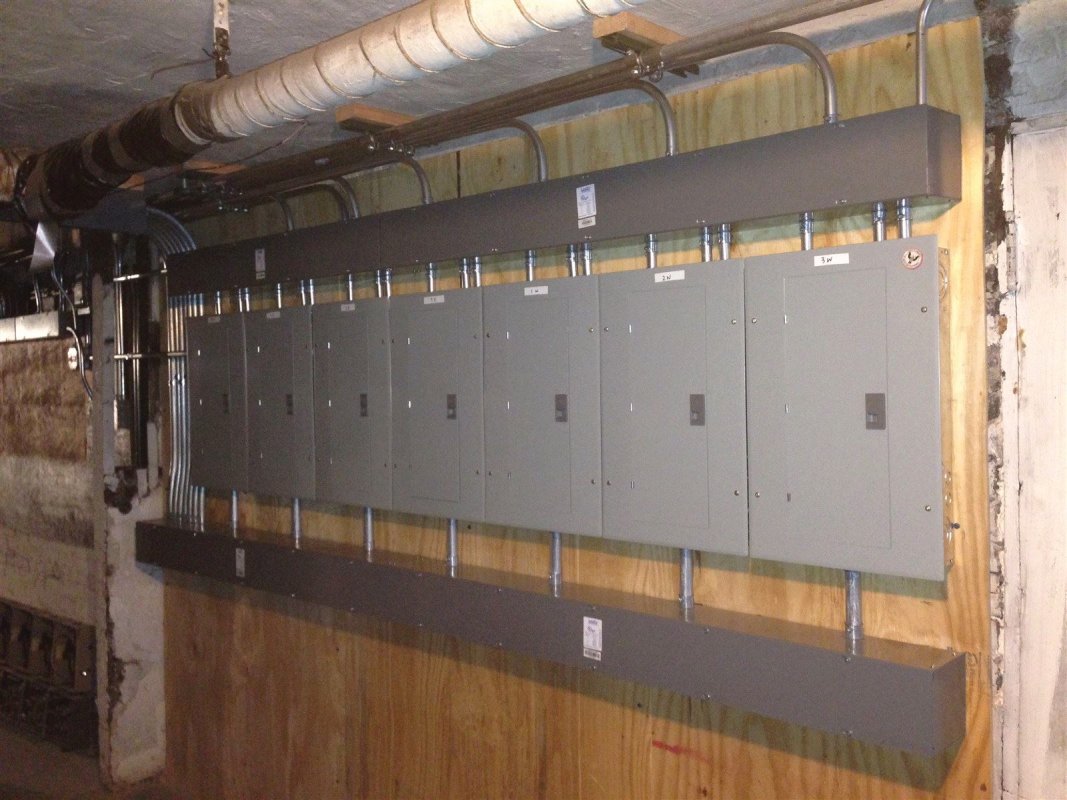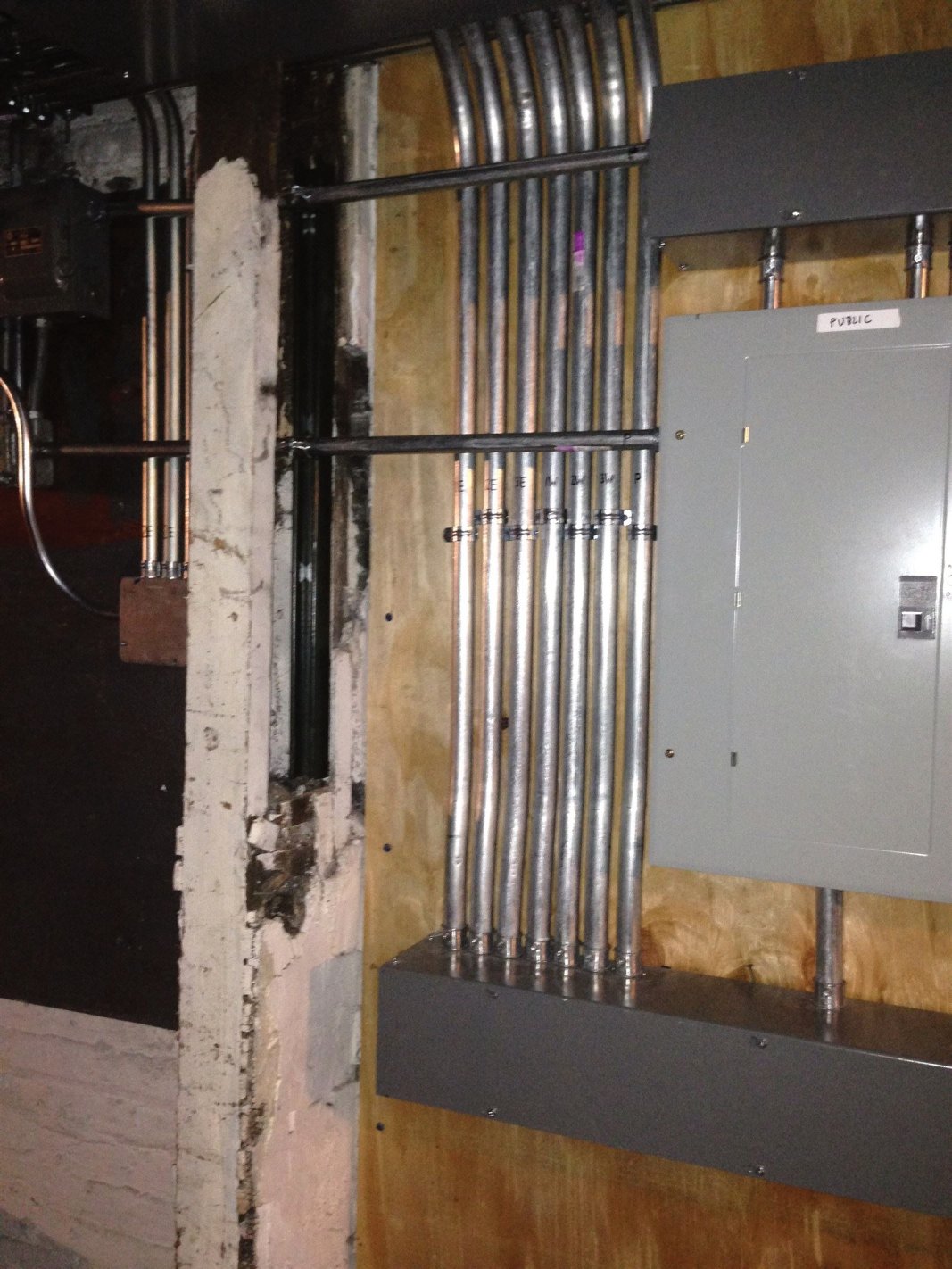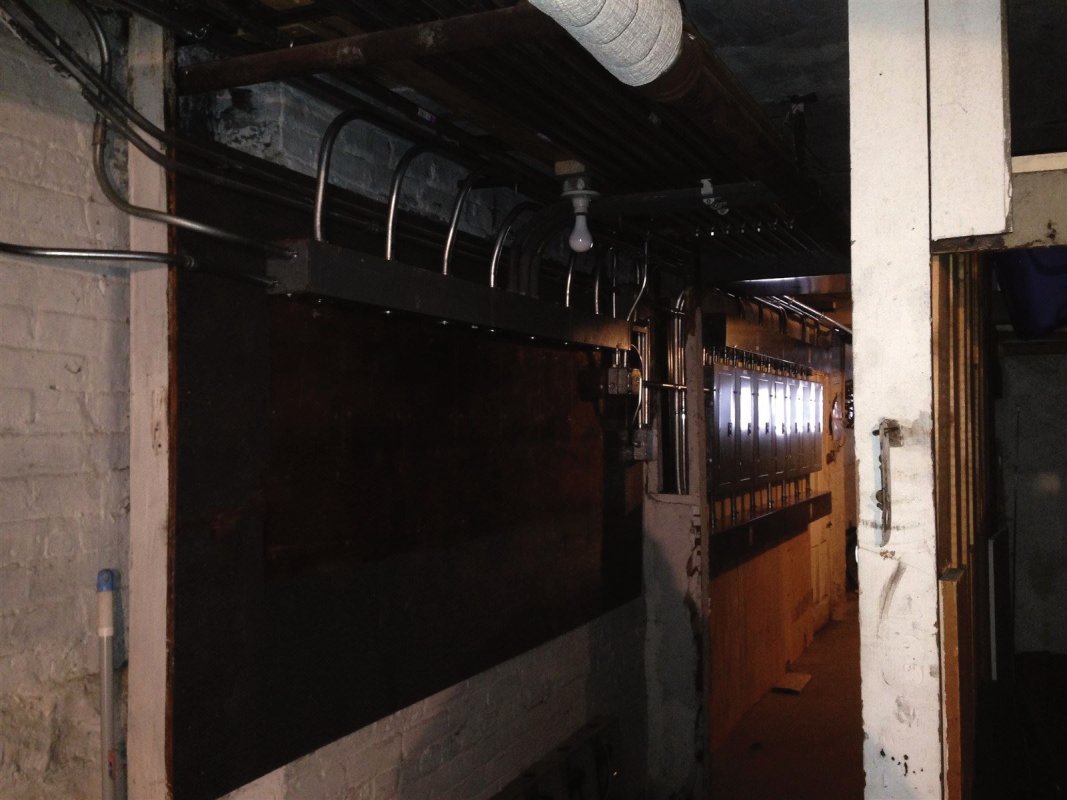 We finished the new 400 Amp service we have been working on in Wrigleyville this week. This brand new service is a thing of beauty. I am very proud of the crew!
There is now 400 Amperes available to this 6 unit condominium building. Each unit has a new 100 Amp, 120/240v circuit breaker panel complete with new GE circuit breakers in 15 and 20 Amp sizes, as well as 30 Amp 240v breakers as necessary. Previous to this, they had very small 6-circuit panels that had no room for rewiring or future expansion. Owners could not add new circuits because the existing undersized circuit breaker panels were all full. There was no room for expansion. Also, new GE panels allow the code-mandated AFCI circuit breakers that must feed bedroom circuits to be added.  There are now AFCI circuit breakers available for these 60 year-old Wadsworth panels that we pulled out.

The conduits are all individually custom measured and bent to fit into the space. Large pull-boxes and troughs allow us to transfer the wiring from the old locations to the new ones.
This building will be all set for the next 50 years!
PICTURES:
Top- 2" parallel Rigid Conduit Risers Bring the main power into the building.
2nd: Main power conduits enter the Main service disconnect from the back. On the left side, the 400Amp circuit breaker in the cabinet serves as the main disconnect for The entire building. Modular metering to the right measures current use. (Old meters hung for ComEd to easily take when new meters arrive)
3rd:
All the brand new panels. The troughs (Long grey metal rectangular enclosures) above the panels carry the branch circuit wires that go up to the units. The troughs below the panels carry the main power cables feeding each individual panels.
4th:
The row of 7 vertical 1" conduits corresponds to the 7 100-Amp panels. Each 1" conduit carries the feeder cables for one of the panels. At the opposite side, these cables originate in the meter housing, where they bring the power from.
5th:
The clean wall where the original little panels had been previously installed.
This North Side Condominium association was a pleasure to work for. Most of our new services are on the South Side, either in Hyde Park or the surrounding communities. It was nice to work in Lakeview. And As I said, these clients could not have been nicer.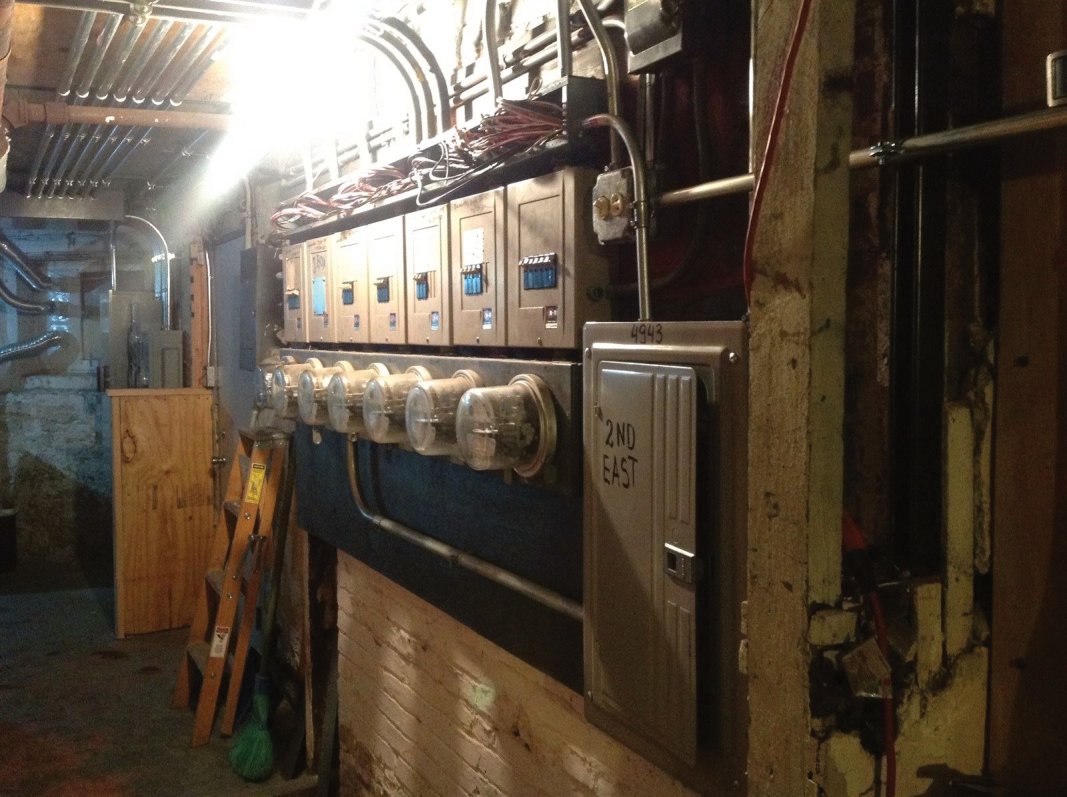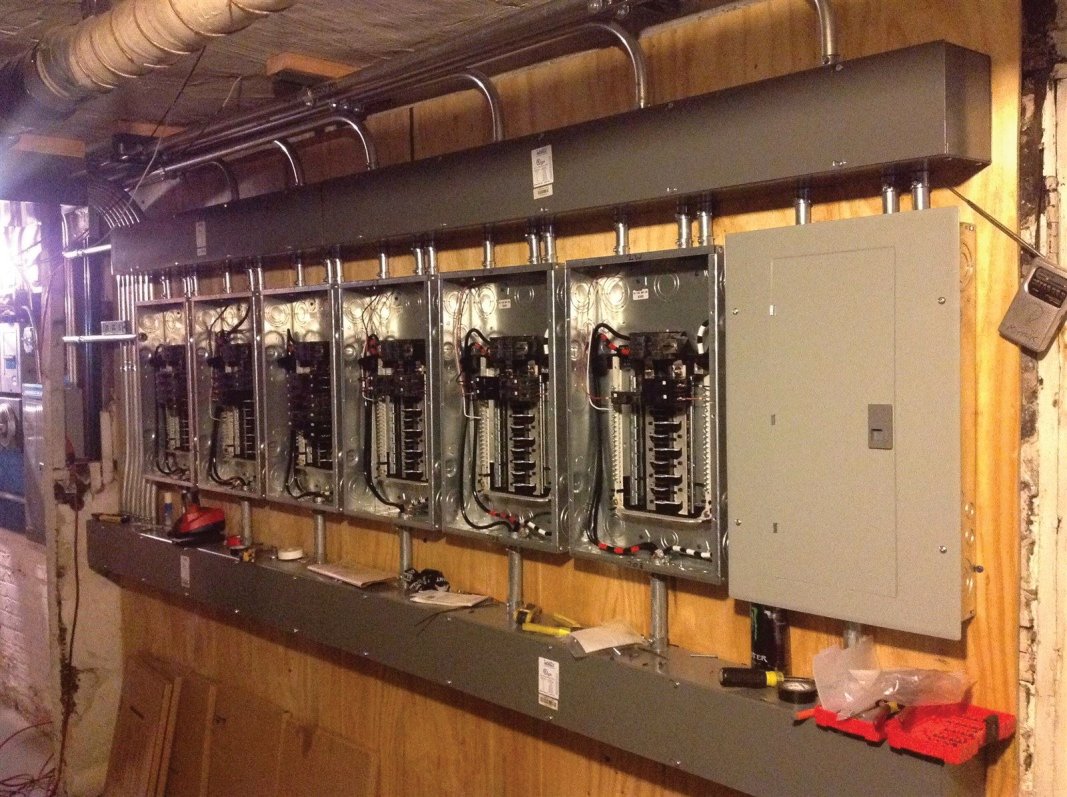 We are in the second week of replacing and undersized service in Lakeview, or more specifically, Wrigleyville. (Hey Ernie, Let's play two today!)
This six flat had an undersized 200-Amp service and small 6-circuit panels. (Top picture) Moreover, they were 50 years old. An upgrade was definitely overdue! We are doubling the amount of current available to the building, from 200 to 400 Amps. At the same time, we are getting rid of the outdated little panels and installing brand new GE 20 circuit panels. (Bottom picture)  This will both give the owners plenty of breaker spaces for updating their wiring and replace the fatigued (and probably very compromised in response capability) mechanisms in the 50 year old existing breakers, thus insuring that when an overload or short does occur, the breaker will actually trip. You would be surprised how many don't once they are over 50 years old. The grounding equipment will be brought into the 21st century as well. The main service grounding conductor will be piped, pulled and terminated at the street side of the water meter, not at a very highly corroded (High resistance) plumber's water line, as it presently is. The supplemental ground, comprised of a grounding electrode of 8' copper driven ground rod will be installed to bond the service equipment and neutral feeder to ground by way of  a second, redundant path. 
Except for the cold, the job is proceeding along well. More pictures to follow soon.
Happy New Year!
P.S. Thank you so much for reading and for all the comments. I still have not figured out how to reply directly on here to your comments individually (again, a combination of being too old for anything IT-related to be intuitive and being too busy running the business to trace down the expert to help me figure it out!) But in the meantime, please rest assured I do read every comment, and am happy to have them. Feel free to ask questions if you wish and I'll do my best to answer in future entries.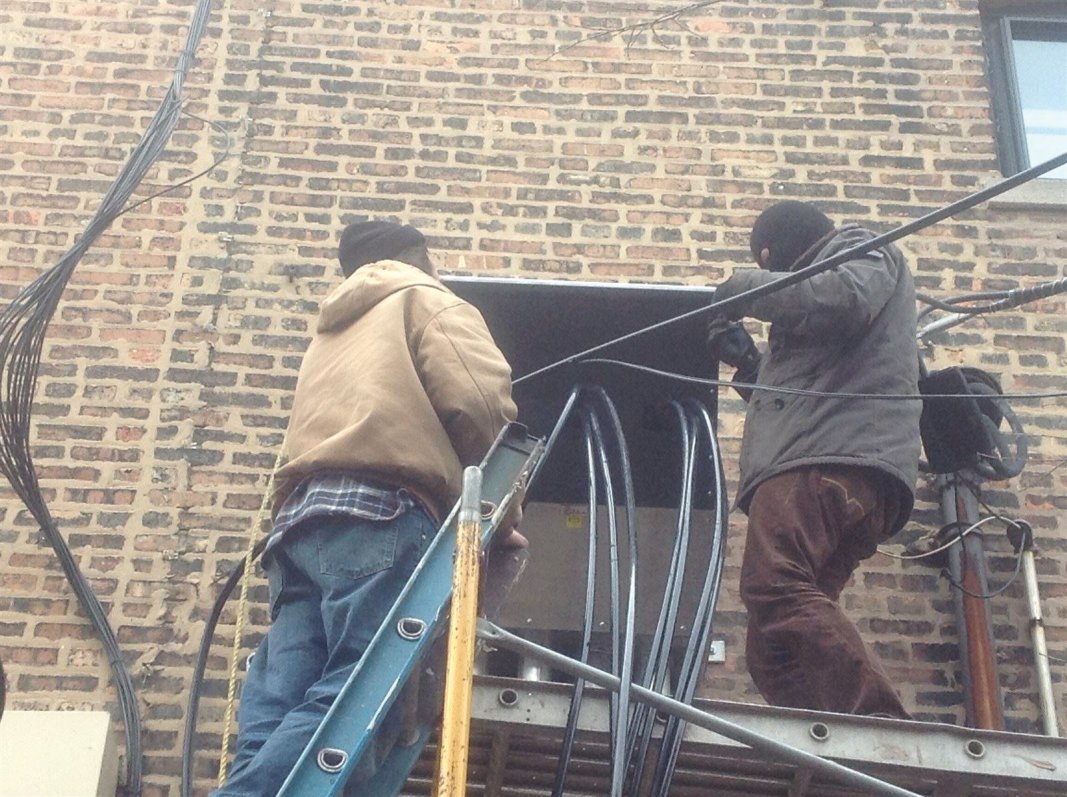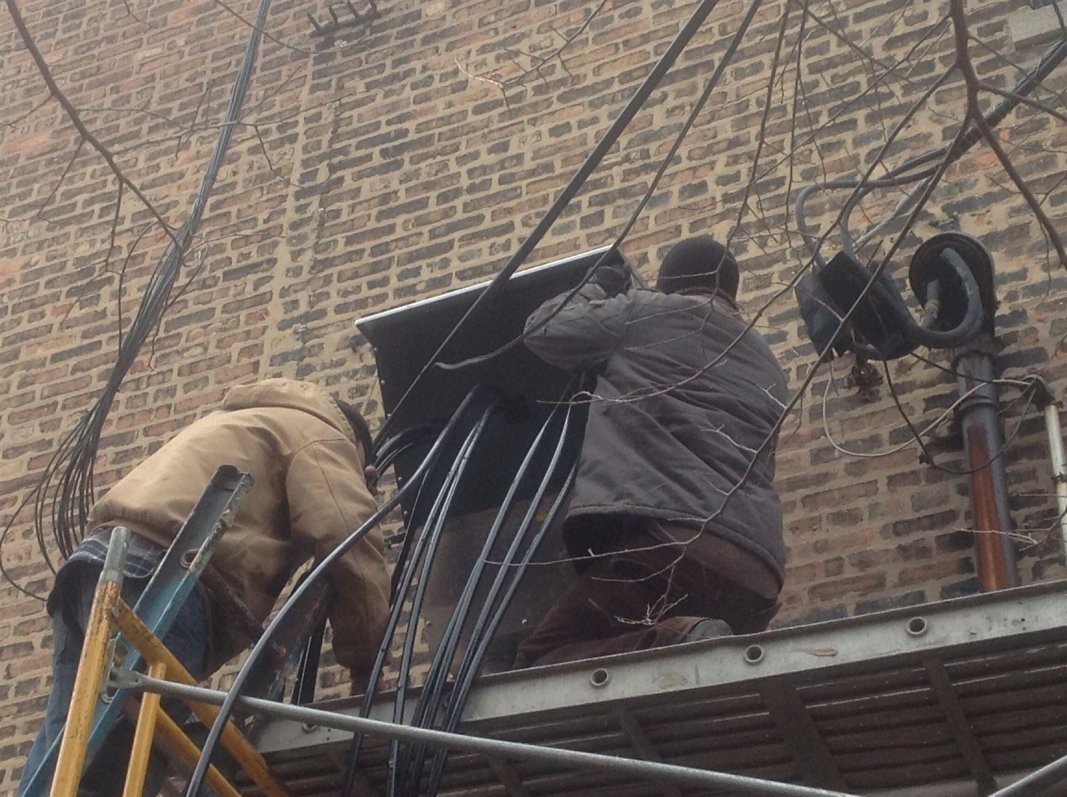 The 1200 Amp, 120/240V new service on Blackstone is proceeding along smoothly. We had a nice holiday break, and resumed work on January 7. We finished piping the four parallel 3" service conduits and then Installed the large square service head. Chicago Code requires this type of head for any service over 800 Amps.  Wrestling 12 350MCM copper cables at once through the service head dead front is no easy task, considering each cable is about the thickness of a half-dollar, about as flexible as one two, and definitely heavier. We were blessed with a warm dry day to pull all these cables, and my arms and shoulders let me know I was not 25 anymore when we were done. The men, as usual were great. I am blessed.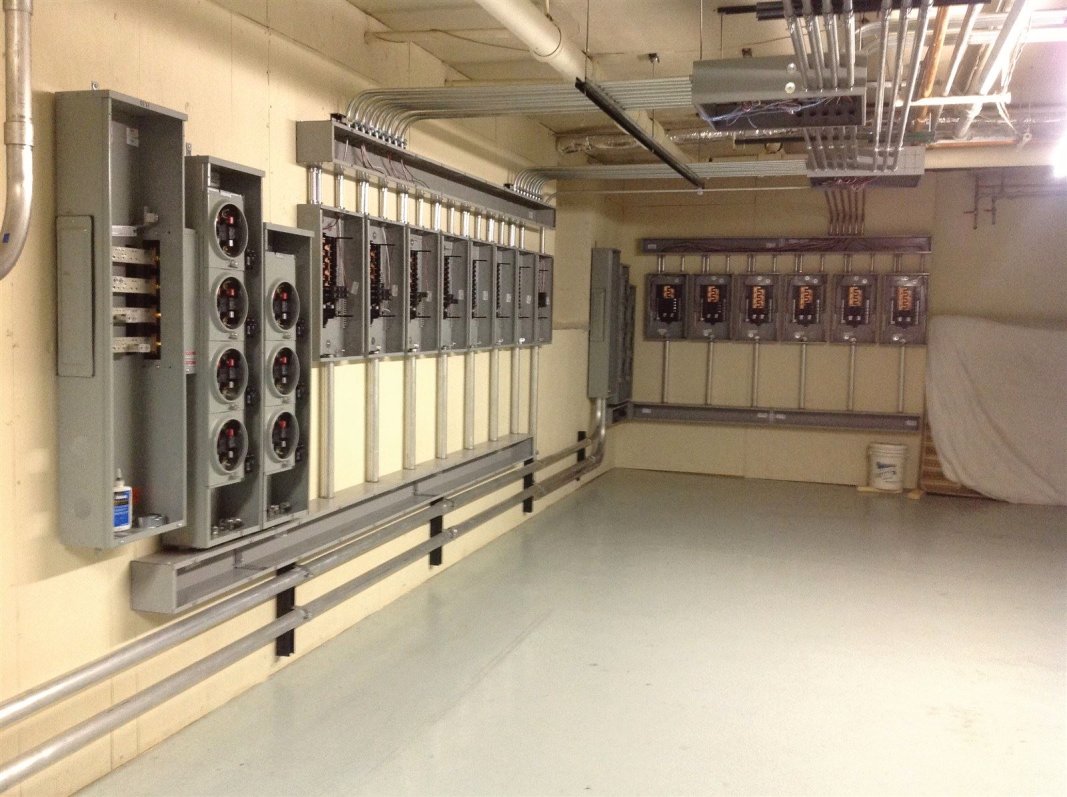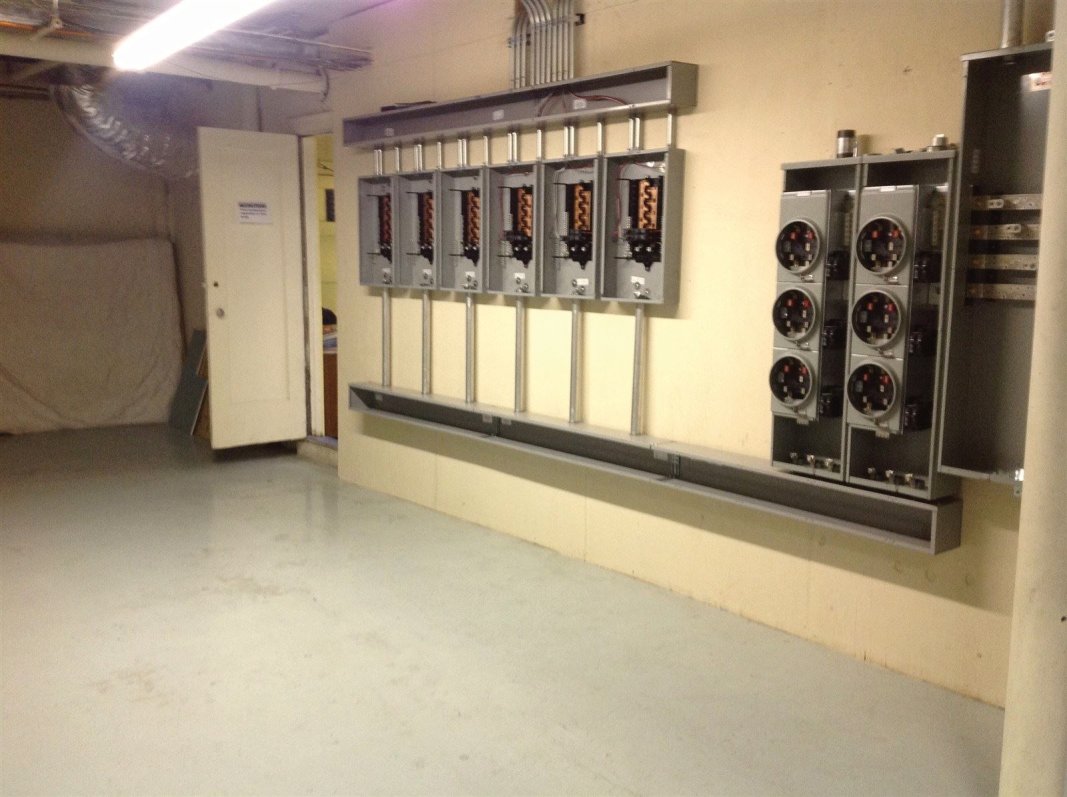 The past month we have been working on a large service upgrade in Hyde Park. This courtyard building has 18 condominiums. It had been powered by an undersized 400-Amp service. The new service is rated at 1200 Amps. The apartments had been fed from 60-Amp, 4 and 6 circuit fuse-panels. The new design includes brand new Siemens 125A, 20-circuit panels. More photos on this job to come.
HAPPY HOLIDAYS EVERYBODY!

/