Shopping Cart
Your Cart is Empty
There was an error with PayPal
Click here to try again
Thank you for your business!
You should be receiving an order confirmation from Paypal shortly.
Exit Shopping Cart
I'm happy to post these two new reviews from Angie's List.
Report Date: July 27, 2012
Member:
Y. P.
S Wabash Ave
CHICAGO, IL 60619
Category:
Ceiling Fans
Services Performed:
Yes
* More Weight is given to a report where work has been completed.
Work Completed Date:
July 02, 2012
Hire Again:
Yes
Home Build Year:
1928
Description Of Work:
He came to diagnose a problem with my new fan.
Member Comments:
He was excellent. He was very polite and knowledgeable. He responded right back to my call, he was very punctual, and exceeds in professionalism.
Overall    A
Price    A
Quality    A
Responsiveness    A
Punctuality    A
Professionalism    A
Report Date: July 27, 2012
Member:
Lenora A.
E. 85th St.
Chicago, IL 60619
Category:
Electrical
Services Performed:
Yes
* More Weight is given to a report where work has been completed.
Work Completed Date:
July 16, 2012
Hire Again:
Yes
Description Of Work:
Peter McCarthy came to see why some lights and outlets in my condominium unit were not getting any power. He found that I had not realized that one of the single circuit breakers was not in proper position (although I thought that I had inspected carefully). I called him because he has done major work for me in the past at this and another location.
Member Comments:
I put in a distress call to Peter McCarthy regarding electrical malfunctioning of a number of areas in my Hyde Park condominium. This was of special concern to me since it is listed for rental and is being shown to potential clients. This was at the high point of one of our hottest days - 100 degrees at noon! It was also at a very busy time for him. He quickly came to my unit, with ladder and tools in hand to fix the problem. It turned out to be a simple solution that was overlooked by me - I had misread the position of the circuit breaker that must have been tripped by the previous night's storm. Though sweating profusely (since the unit was currently unoccupied and the AC was not on), he never got flustered. Not only did he NOT charge me for the call, but he was very pleasant throughout. He stated that he was happy to put my mind at ease and wished me a good day! NOW THAT IS TRULY GREAT CUSTOMER SERVICE!
Yesterday's Yelp Review lasted an all-time record of 1 day before it was "filtered."  It is still there, of course, but it does not jump out at you. You have to look a little harder for it. One day it lasted. Amazing.

But fortunately, we got a new one this morning. Nathan was having issues with some 220 wiring that had been turned around and needed straightening out. Matt took car of it easily.  THANKS NATHAN!!!!
Compliment
Send Message
Follow This Reviewer
4/24/2012
Peter worked with me to get a few outlets rewired in my condo. My building has absurd contractor control issues, and Peter worked with me to get that taken care of as well. Great service!
4 reviews for Peter McCarthy Electric Co
Compliment
Send Message
Follow This Reviewer
4/18/2012
Peter did a great job. He was efficient with his time, generous with the explanation of the problem and on time! I will certainly not hesitate to call Peter McCarthy Electric Co the next time I have an electrical problem. Highly recommended.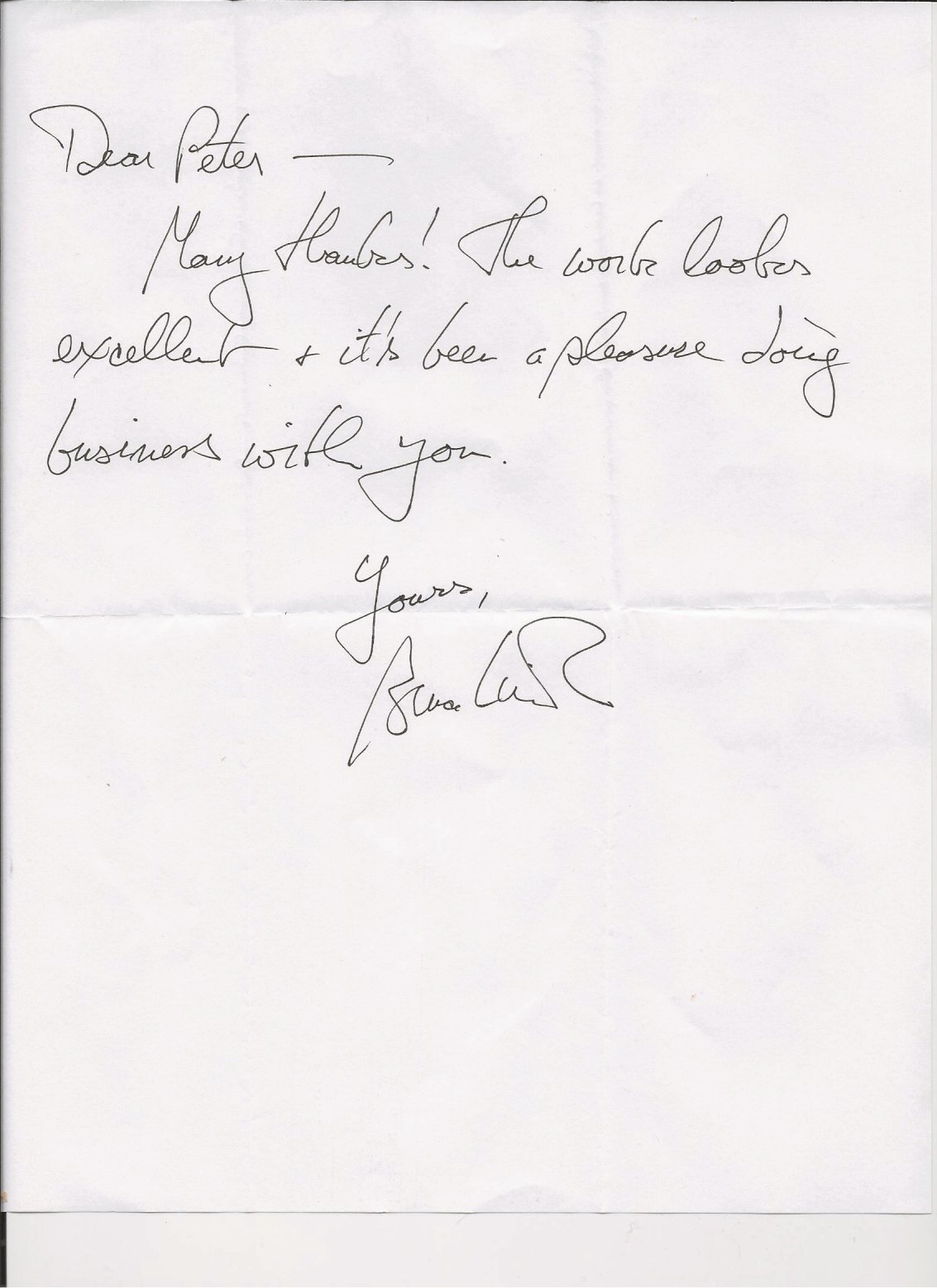 Every now and then you just gotta toot your own horn a little bit!
Really, though, all the credit goes to my guys Matt and Rick. They are out there doing the jobs, taking care to be thorough, neat and professional, day in and day out. When I spoke to Louise after the work was done, double checking that she was completely satisfied, she told me "Your men left the basement cleaner than it was before they got there!"

Great Job, guys!

We are blessed to have such great customers like Tracey. THANK YOU!!!

Compliment
Send Message
Follow This Reviewer
2/19/2012
I had been searching the Hyde Park area for a good, reliable and knowledgeable electrician and happened to search Yelp and found Peter and his team.  I could have not been more pleased.  Peter arrived in a timely fashion, listened carefully to my requests and then proceeded to install the much needed dimmers I had been searching for throughout my home.  I would happily contact Peter again for future projects.
Was this review …?
We were able to help out a Hyde Park neighbor a few weeks back when her tenants were not able to operate the 220 washer?dryer without tripping the breaker. Since Faith had moved up to Lakeview and was renting her Hyde Park condo out, handling this issue from a distance via telephone and email was vital. As it turned out, the existing very small circuit breaker panel was already full, and the "electricians" who wired her 220 washer/dryer just decided to double up their wires over existing breakers that already were loaded to capacity. They call it double-tapping. Very illegal. We were able to install a new sub-panel, giving her additional capacity and allow the washer/dryer to be on its own dedicated 220 circuit breaker, as it should have been originally.  The things people do...
Here is the review she posted on YELP this morning. THANKS FAITH!

1/25/2012
Peter was recommended to me by our condo management company and I was very pleased with his work.  I spoke with Peter on the phone before meeting him in person and was struck by the detailed explanations he gave to describe the issues we were having with our washer/dryer unit.  Some professionals are very condescending and gruff, but Peter was the very opposite.  You could tell that he was skilled and knowledgeable, but still a kind and good person.  The issues we had turned out to be more complicated than expected because the previous owner of the condo had taken some shortcuts in the wiring of the washer/dryer, but Peter and his crew had the job done within the timeframe promised, and without any hassle.  We were VERY pleased with the work.
JUST GOT ANOTHER 4 STAR REVIEW AT YELP!!!!!!
(Wanted to post it here before it vanishes)
Peter McCarthy Electric Co
3 Reviews for Peter McCarthy Electric Co
•    Dan Y.
•    Chicago, IL
1/17/2012
I just want to echo what every the other posters have already said.  Peter was extremely helpful and communicates really well (I also really like how he will communicate through e-mail, which is much more convenient for me than the phone).  Guessed what the problem was immediately, and told me exactly what would be required, and his prediction was spot on.  Service was right on time, very friendly, and, to my extremely inexperienced eyes, efficient.  All around excellent.
3 Reviews for Peter McCarthy Electric Co
11/15/2011
Peter responded promptly (same day) to my call. The next day he looked at the work I needed to have done in my vintage apartment (installing new receptacles with trim plates, removing old wiring), and emailed me an estimate the same evening. The work was urgent and Peter was able to jump in right away, so I could meet my deadline for painting. Mathew and Rick (Peter's employees) arrived on time, were friendly and courteous, carried out the work very professionally, and tidied up the work areas after completing their work. There was no charge for some of the items I wanted to have done, so I think I got a good deal, especially since Peter guarantees his labor for 5 years. I am very happy with Peter's work and will use him for any future electrical work I may have. Two thumbs up!
You may message 5 more customers today, and your business may make up to 3 public comments.
Send Private Message
Add Public Comment
/