Shopping Cart
Your Cart is Empty
There was an error with PayPal
Click here to try again
Thank you for your business!
You should be receiving an order confirmation from Paypal shortly.
Exit Shopping Cart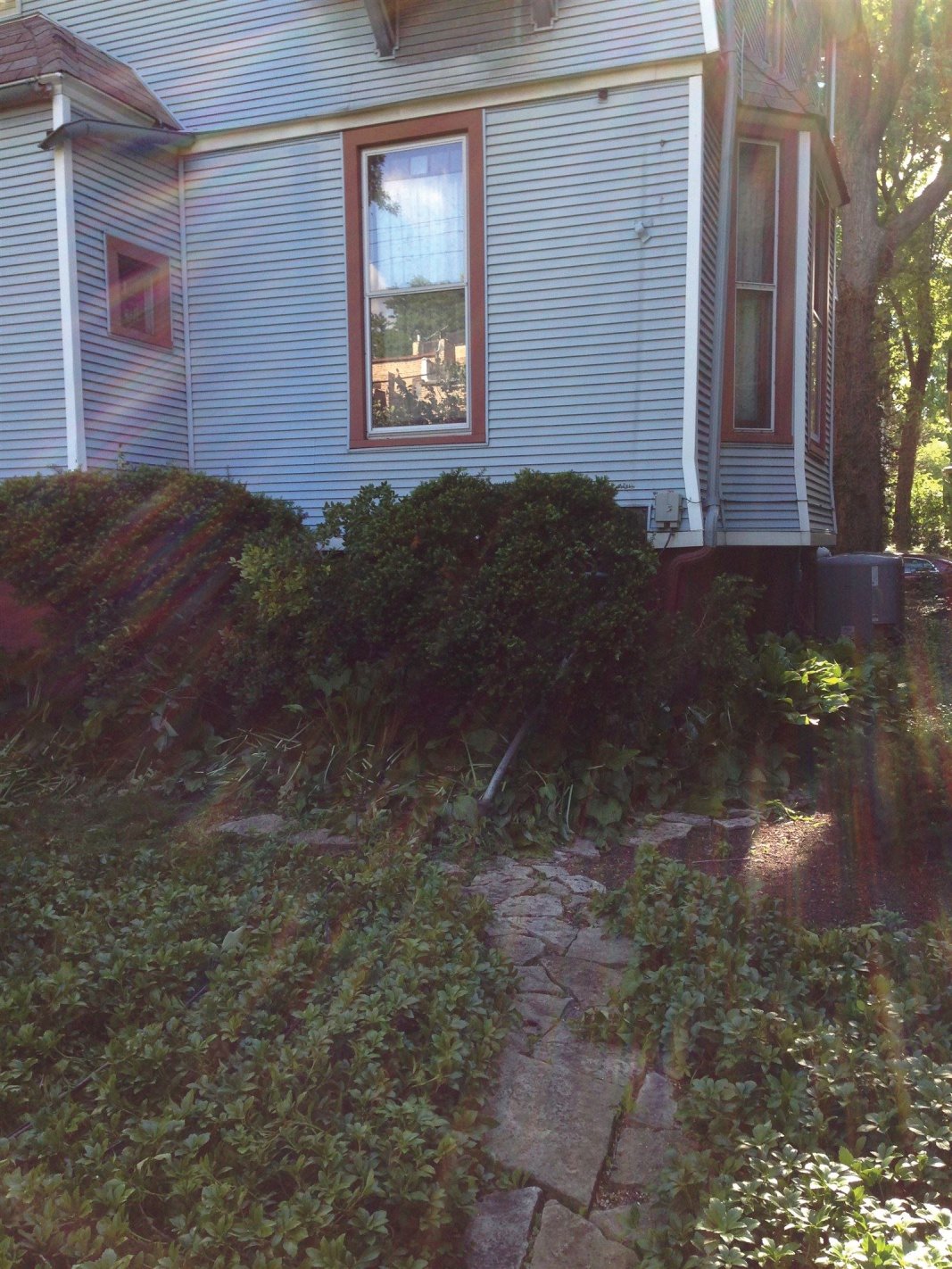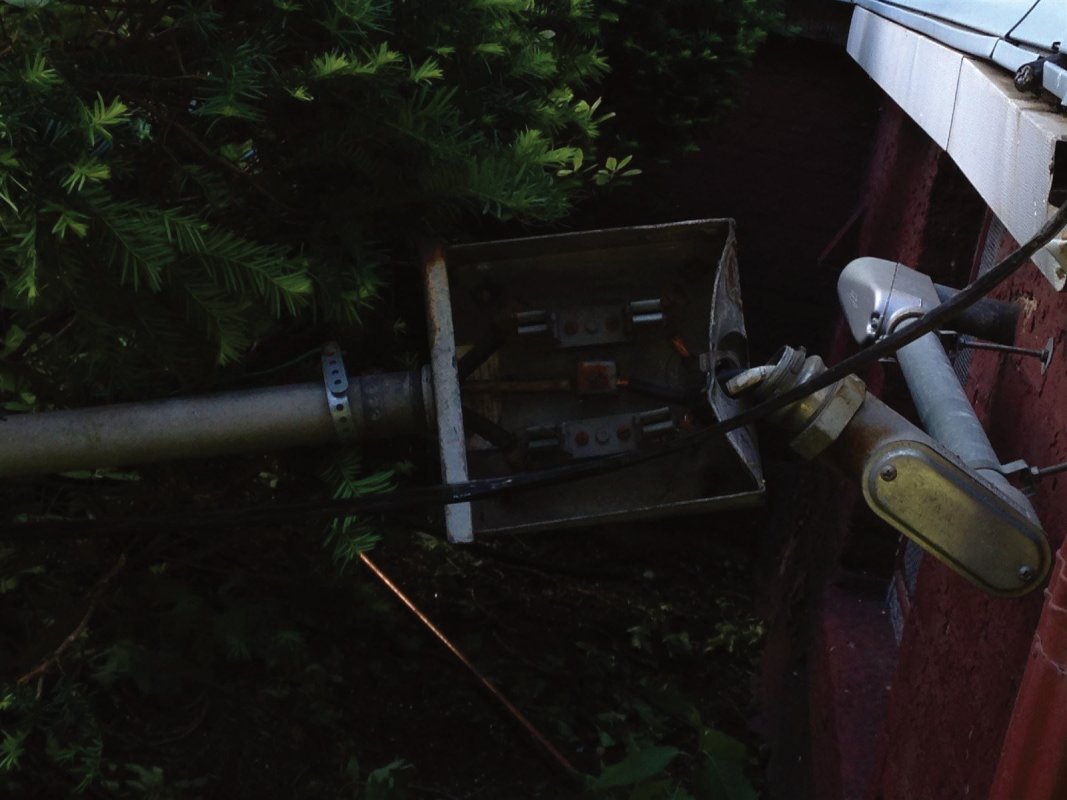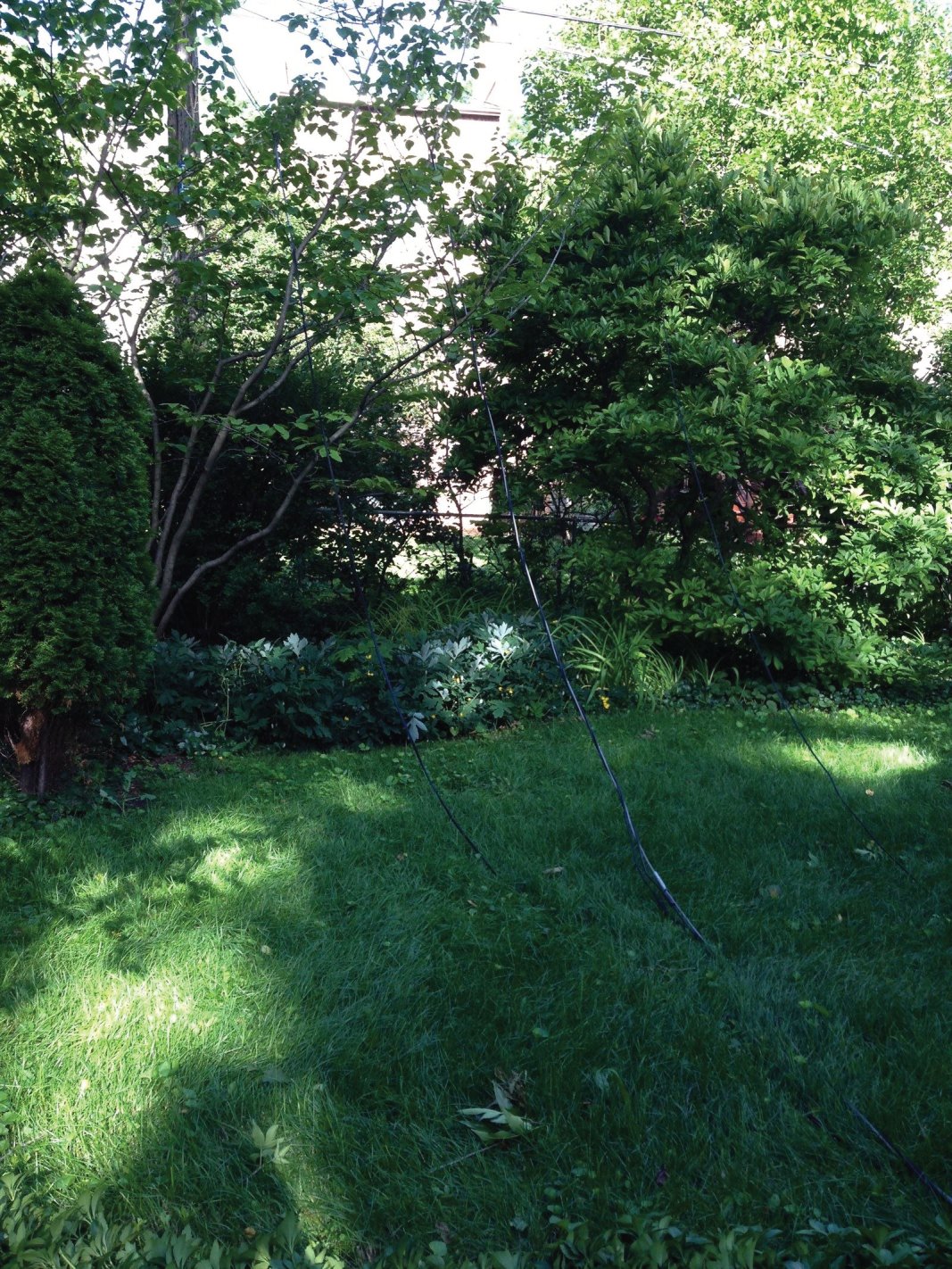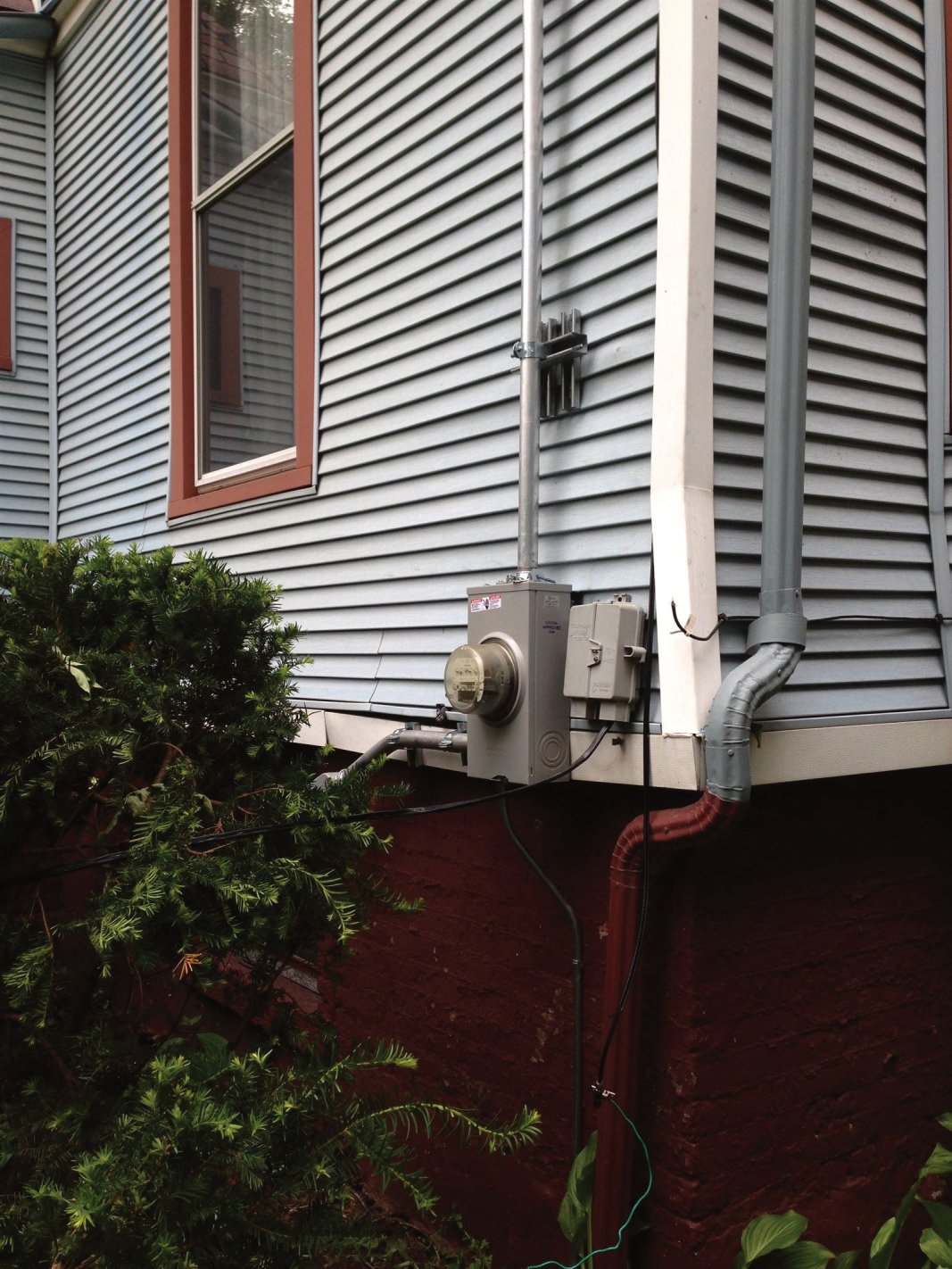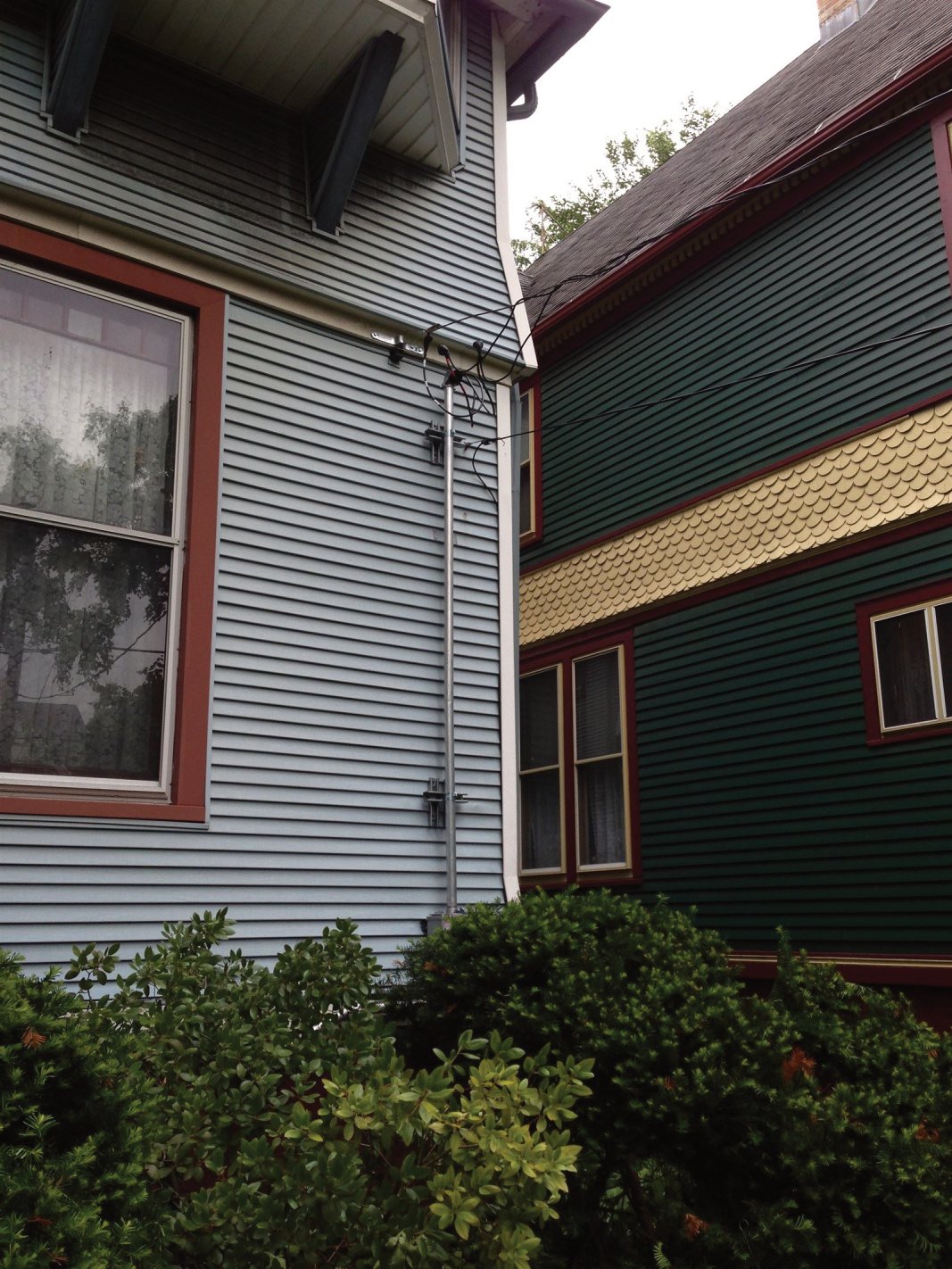 Early this week, on Monday night, there were very severe thunderstorms in the neighborhood. Winds were blowing very strongly, knocking down anything in the way. This home had its electric service totally destroyed by a large tree from the neighbor's yard falling directly on the overhead ComEd lines and yanking them and all that was attached to them down to the ground. 
Top: Rear view of house with the riser laying horizontally in bushes and on the ground.
Middle: Close up of damaged meter housing and riser.
Bottom:  The ComEd service drop main power cables laying on the ground in the yard. While all the service equipment was destroyed and knocked off the house, these cables were still live and "hot" because they did not rip off the service head connectors, and the cables themselves never shorted or became grounded.
Top:  New service riser, grounding electrode, service head and meter housing.

New service conduit, riser, service head and the Com ED cables lifted off ground and re-attached. Lights on!
It was a very exciting day on Harper Ave last Tuesday!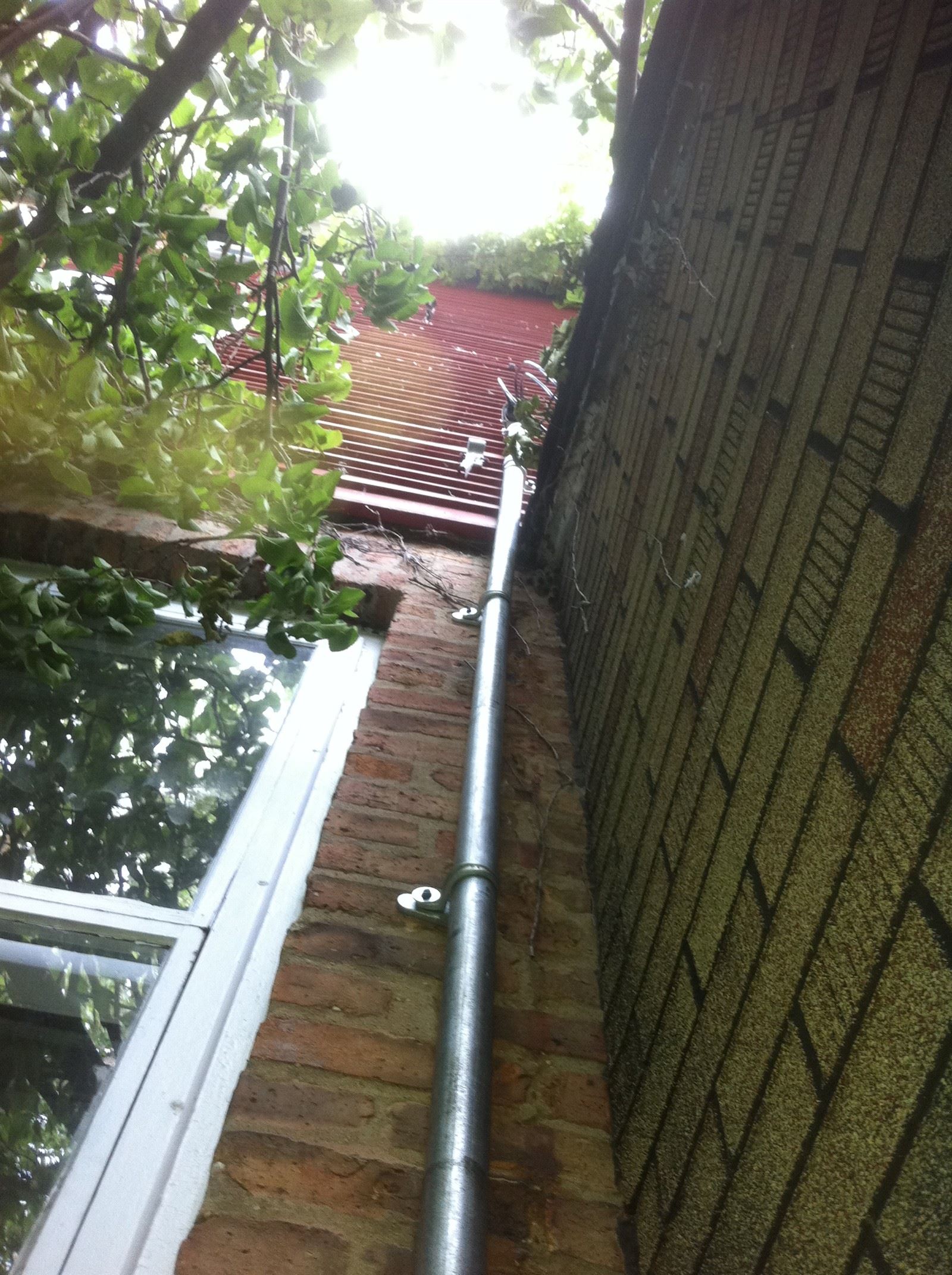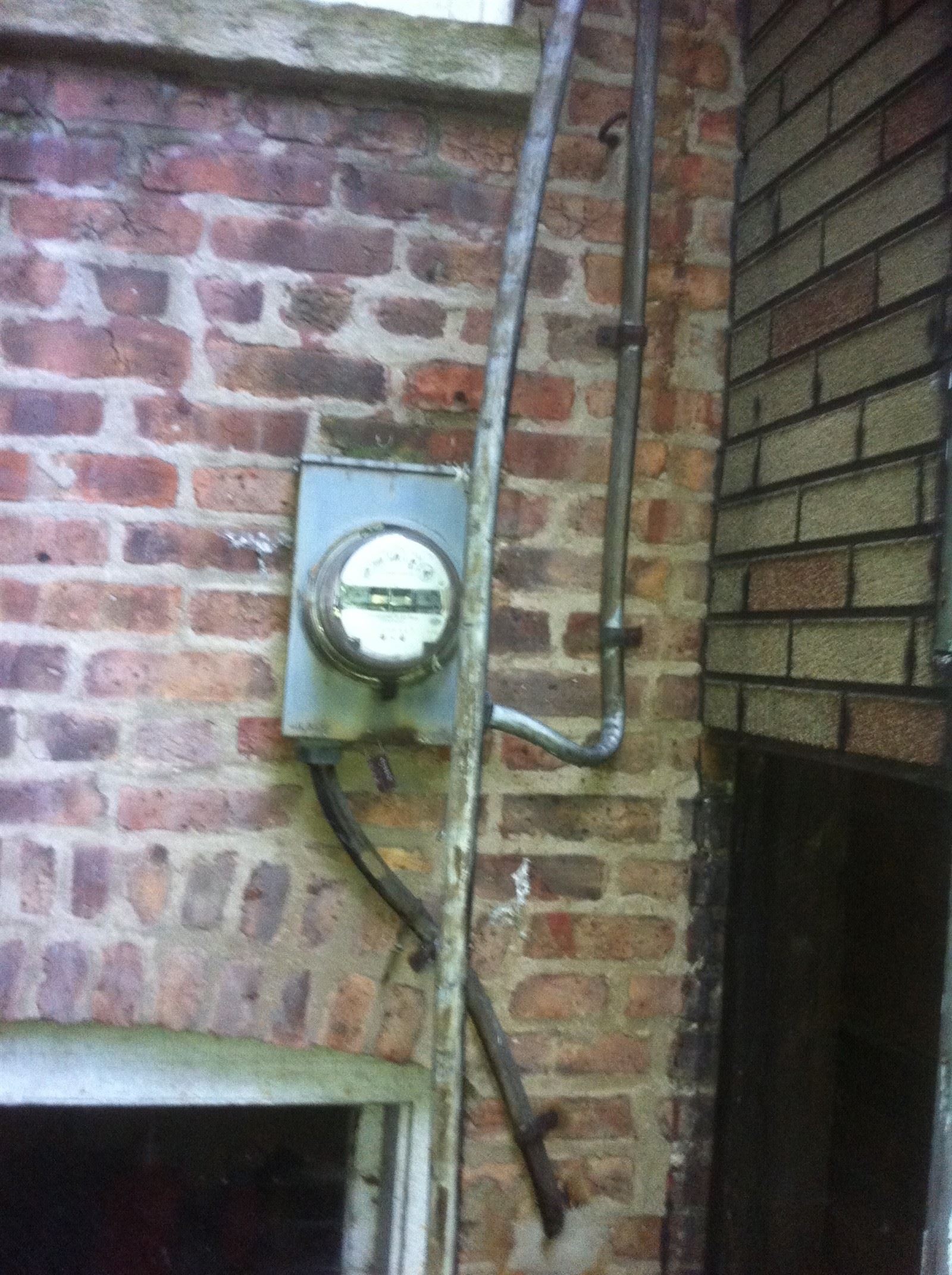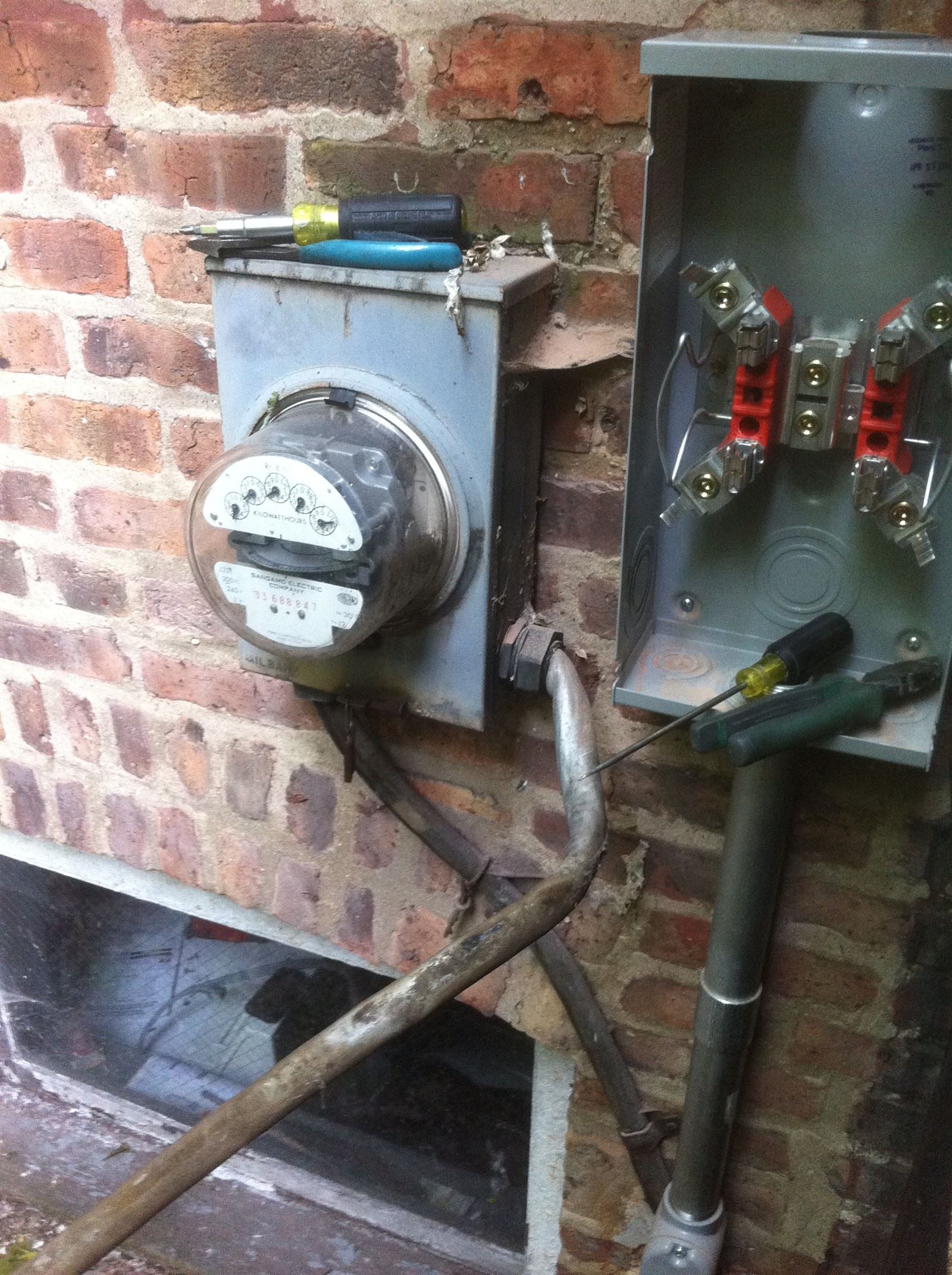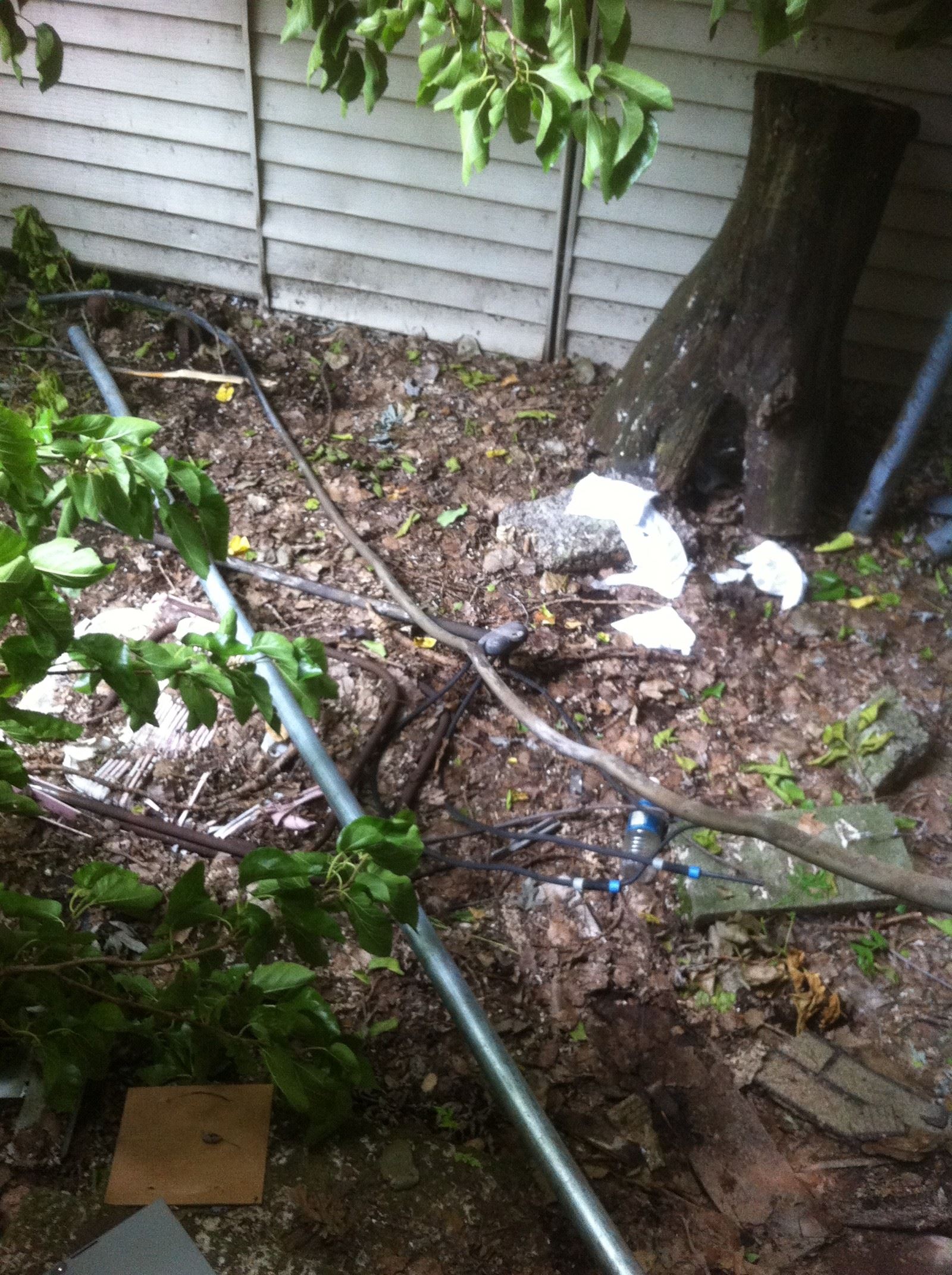 As those of you who live in Chicago know, we got some very fierce storms last month. Tress were felled and power was out all over Chicago. Parked cars were crushed and many streets were impassible.
One poor fellow in Hyde Park had a huge tree fall in his yard. It may have been several trees; the yard was nearly impossible to walk through. In the process of falling, the massive tree pulled down the Com Ed overhead feeder wire that run overhead in the back yard, and that, in turn, yanked the service cable completely off the wall of the house. His 100 Amp Service cable was lying in the yard, buried in branches. Com Ed came out and shut it down, and he had no power to the house. At that point, he called us.
We specialize in being prompt and available to retrofit older buildings in Hyde Park, and this one really needed it. The aluminum service cable provided no metallic bonding connection between the service entrance and the circuit breaker panel. There was no supplemental grounding electrode and the main service ground was compromised as well.  We were able to replace the damaged equipment with a new 1 1/4 conduit riser, all new copper cable, and complete grounding connections as required by the code within 48 hours of his call on a Sunday afternoon.  By Tuesday afternoon we had the system rebuilt.

Write your post here.
Yesterday was hectic....Work schedules are so demanding for everyone. So many of our customers would like to have us come on Saturday, they can't take time off from their busy work lives. My journeyman was able to install a new fixture in a client's office in the morning, head out way west by past Midway airport to rectify some code violations for a new client (GFCI outlets missing in the bathroom, kitchen) and scope out what else need to be done in the near future (install permanent supplemental grounding electrode, tags and approved clamps) and then just as he was about halfway home on the expressway, about 4:00 PM, I got a call from a lady in the south Loop who was in a bit of a panic looking for an electrician. She was out of power in half the room outlets and had a showing in the morning to sell her condo. She asked if we worked on Saturdays and if we could come out. I was just walking out the door to go to see the musical that  my wife's is directing and has been working day and night on for 6 weeks. The show is about 30 miles from here in an outer suburb. My journeyman had just finished on the far south west side of the city and now had driven very far north on his way home. Now he had to turn around and drive back south of the loop.I have been running an ad on Yelp because work has been slow. Careful what you wish for!
Long story short, she said every time she reset the breaker, it popped again. I describe that was the classic symptom of a short. Concerned with a large trouble shooting bill as well as getting someone to restore her power on time, sha asked how long I estimated it would take. I explained you really can't tell on something like this, we would have to gather information on the site and apply our best reasoning. She told me there was an outlet that was smoking and smelling funny, and asked if that might have anything to do with it. I told her, yes, for sure. That may not be the only short, but it certainly is one. That bit of information was key. So my journeyman was able to get down there, diagnose the problem, re-pull burnt wire and replace a damaged outlet, and within three hours of calling us, she was good to go!

I am very happy to have sharp and dedicated people in my organization who go the extra mile. I hope she has a good showing!

/