Shopping Cart
Your Cart is Empty
There was an error with PayPal
Click here to try again
Thank you for your business!
You should be receiving an order confirmation from Paypal shortly.
Exit Shopping Cart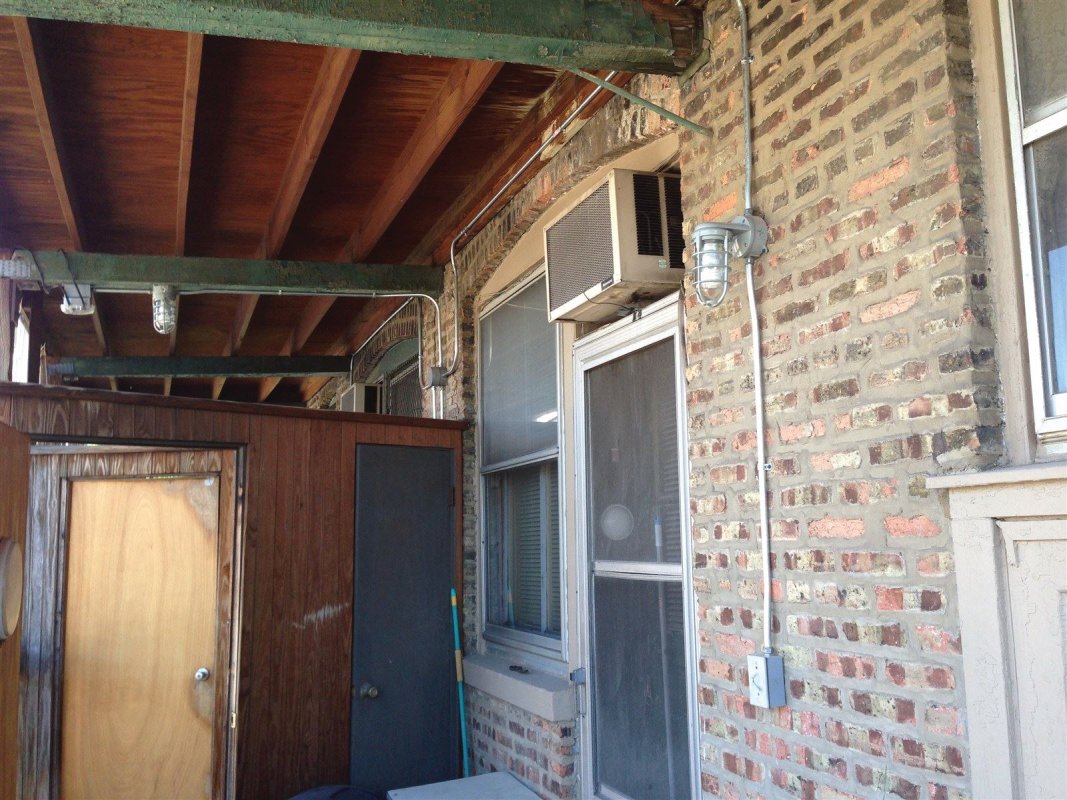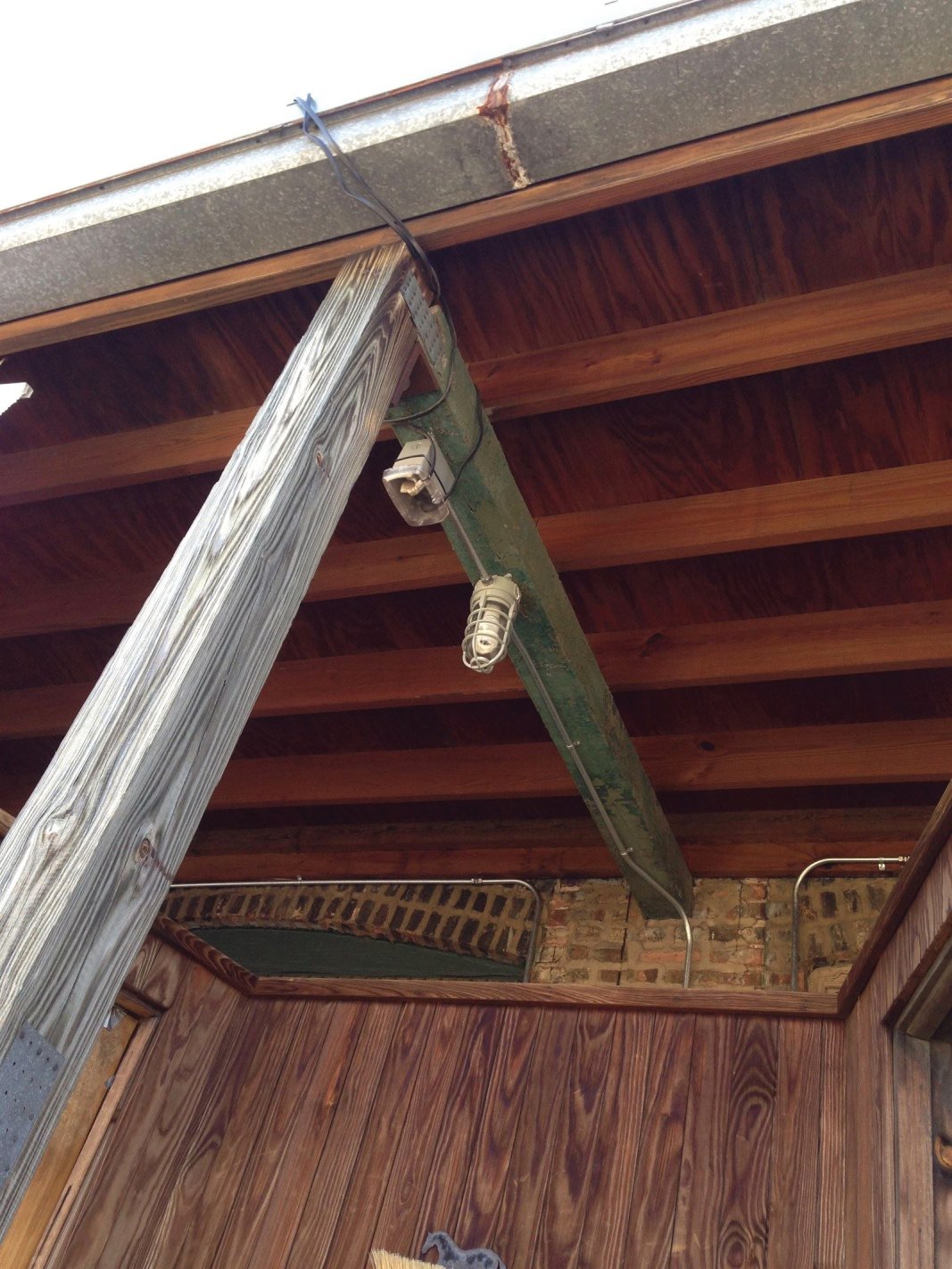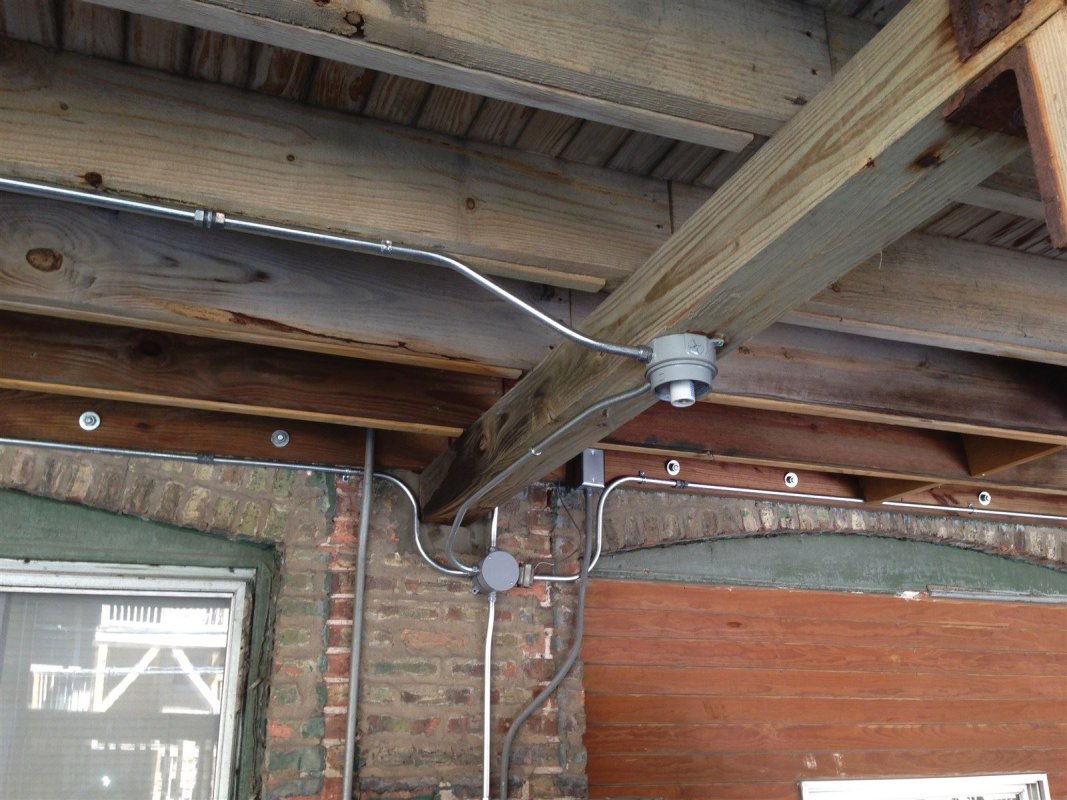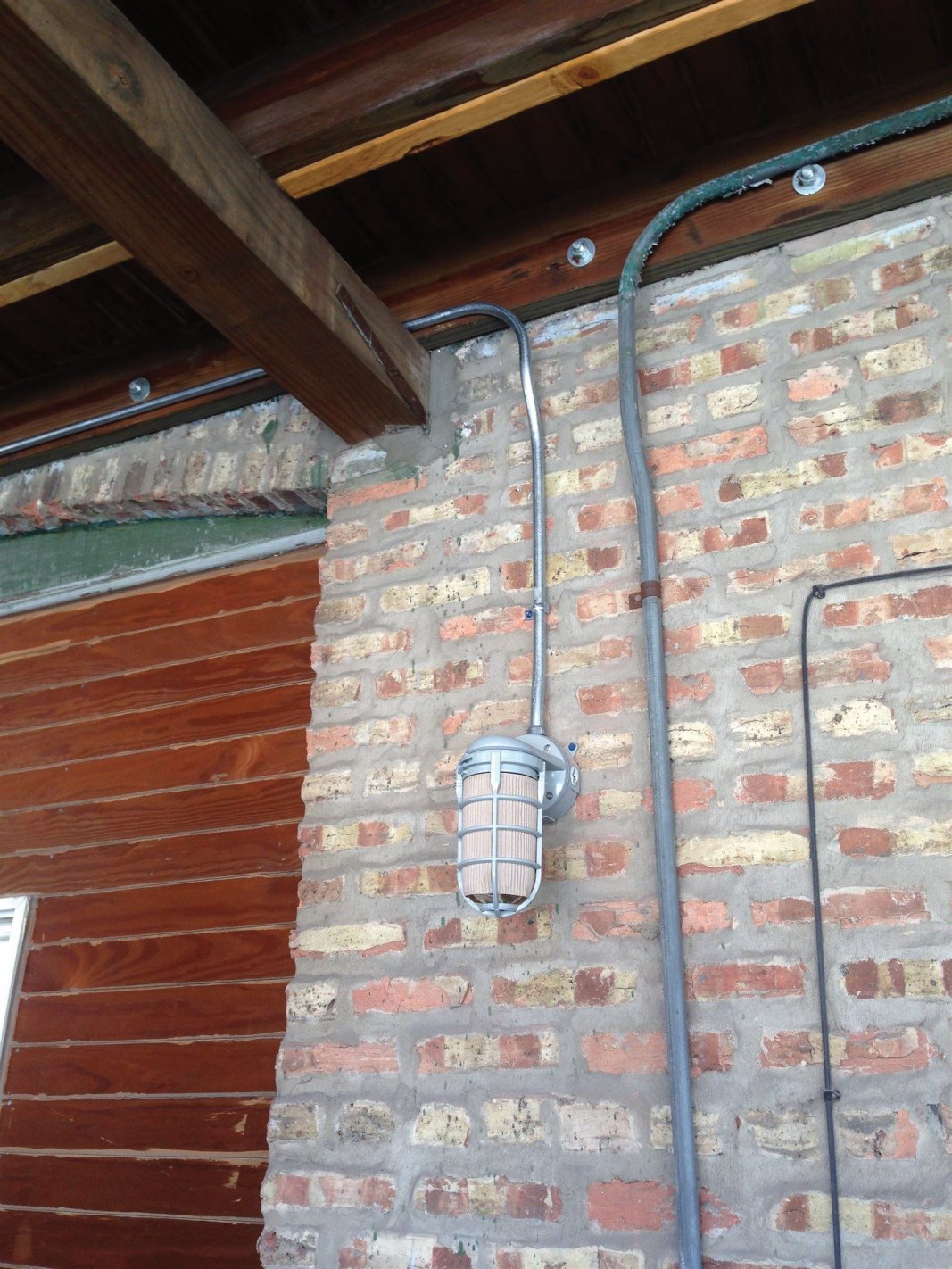 Recently we were hired to update the back porch lighting at a condo building in Hyde Park. In this case it was very necessary, because the old piping was bent and beat up when they rebuilt the porch. As often is the case, the porch company let the existing old pipes hang in free air when the demoed the old porch, and then reattached them to the new porch. All the conduits that had been custom bent to fit no longer fit, and it looked very Hodge-podge. Moreover, the junction boxes and the fixtures themselves were not waterproof, creating a substantial shock hazard. But we replaced the piping and installed new weatherproof fixtures, junction boxes, and pipe fittings.  We also updated the exterior outlet for the de-icing cable with the proper type of in-use cover as code requires.  Now they are in good shape.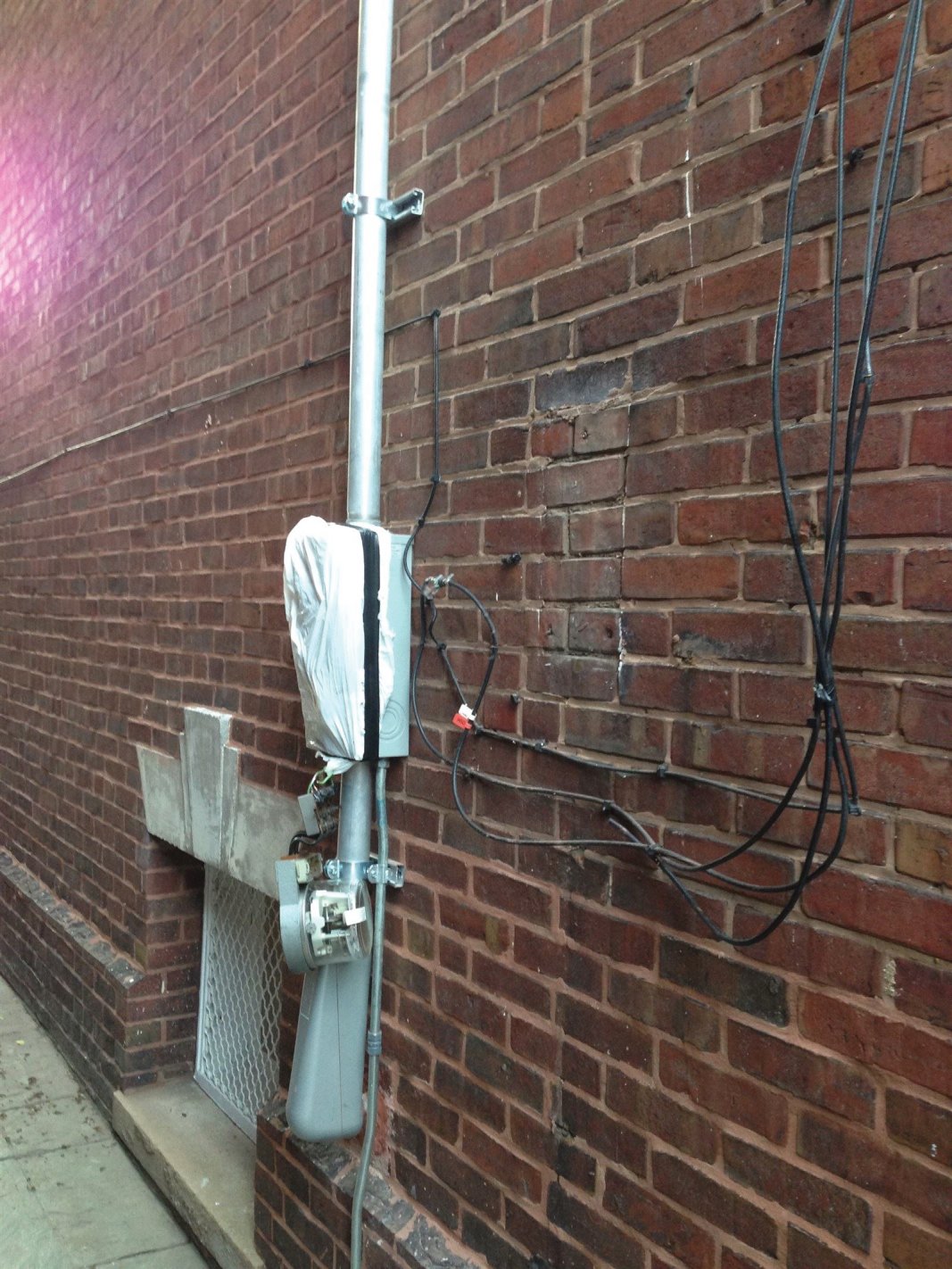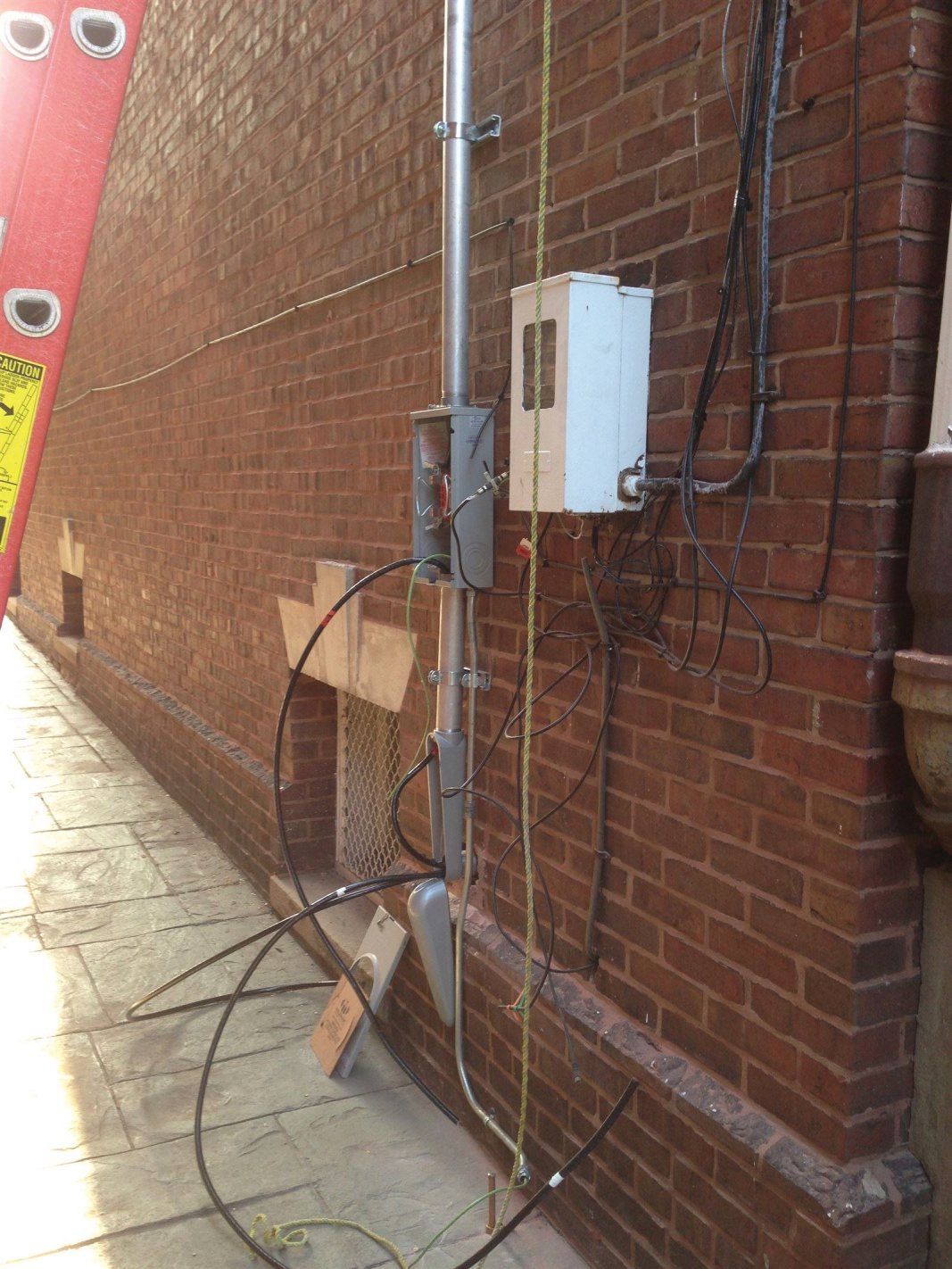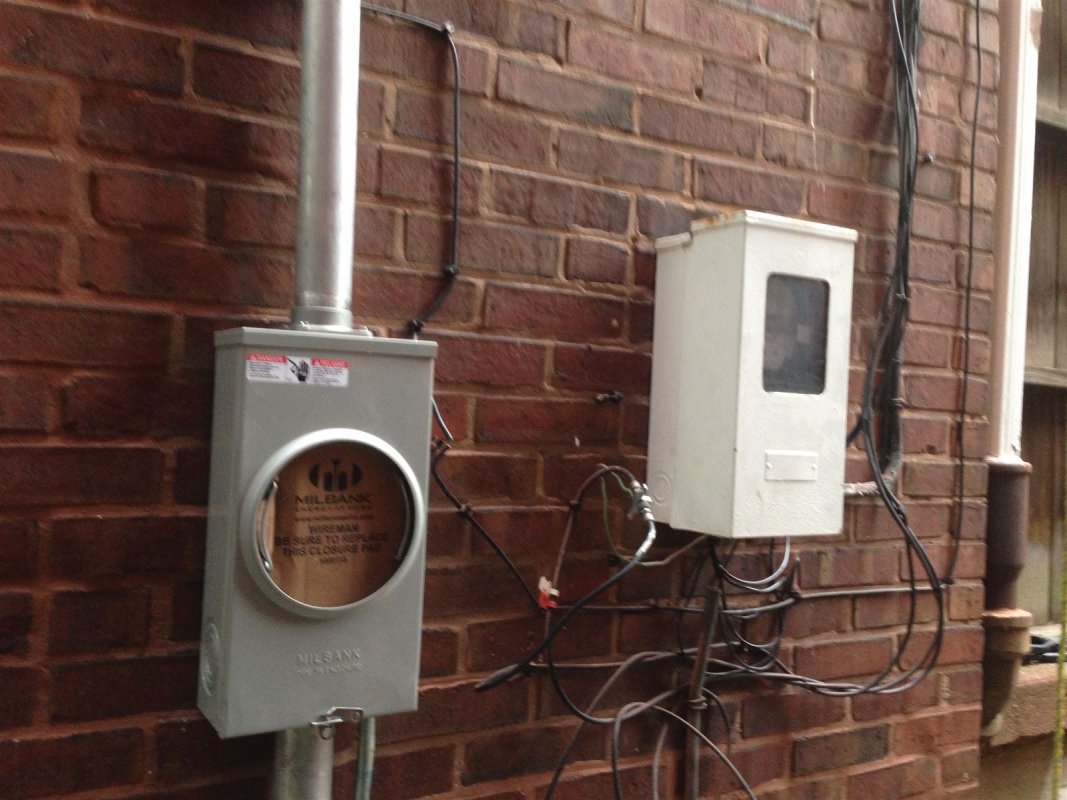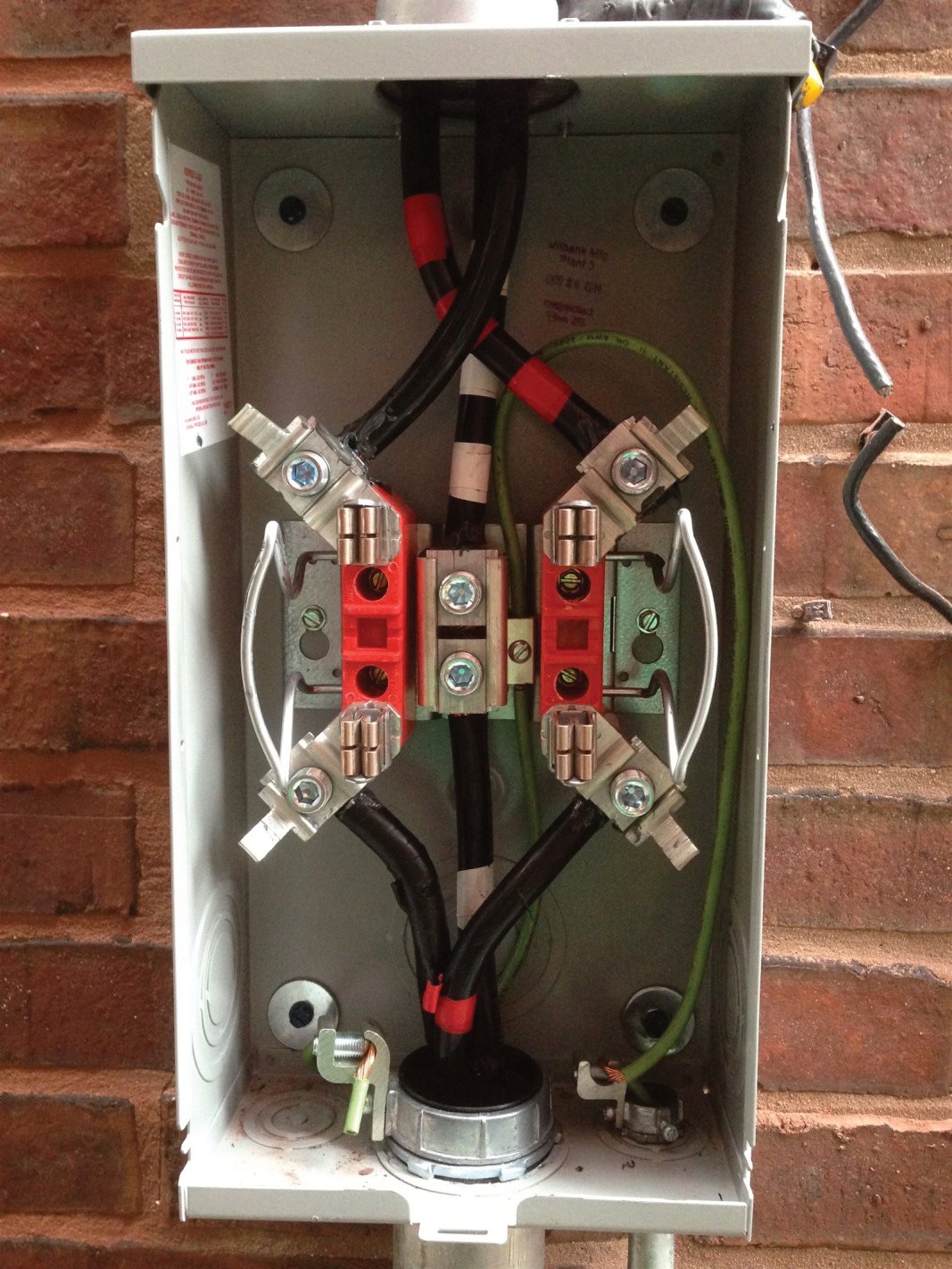 Out with the old and in with the new!
We upgraded the service on this vintage home on Woodlawn Ave recently. Notice how the old white metal box which contains the original meter was only fed with a small cable? While that was adequate for 75 years ago, it falls way short today. The 2" rigid pipe that goes up contains the large power cables for the new 200 Amp service. Also notice the small 1/2" pipe that comes from the bottom of the meter housing and goes down to the sidewalk. This provides the supplemental grounding cable, which is bonded to an 8' driven copper ground rod. The Chicago Electrical code now calls for a more robust main ground and a supplemental grounding system on every service. This is very necessary for fire safety and protection from severe over voltages.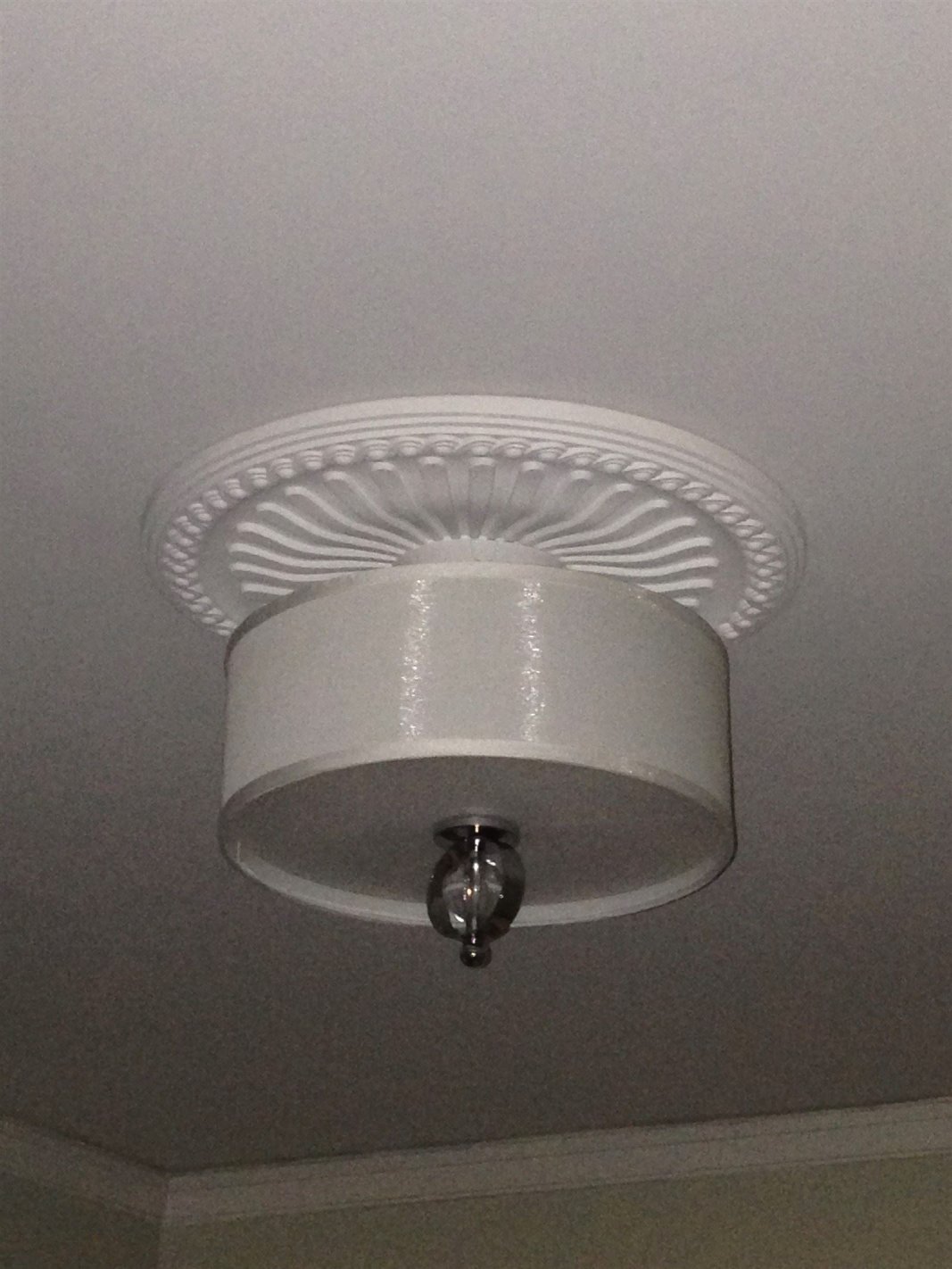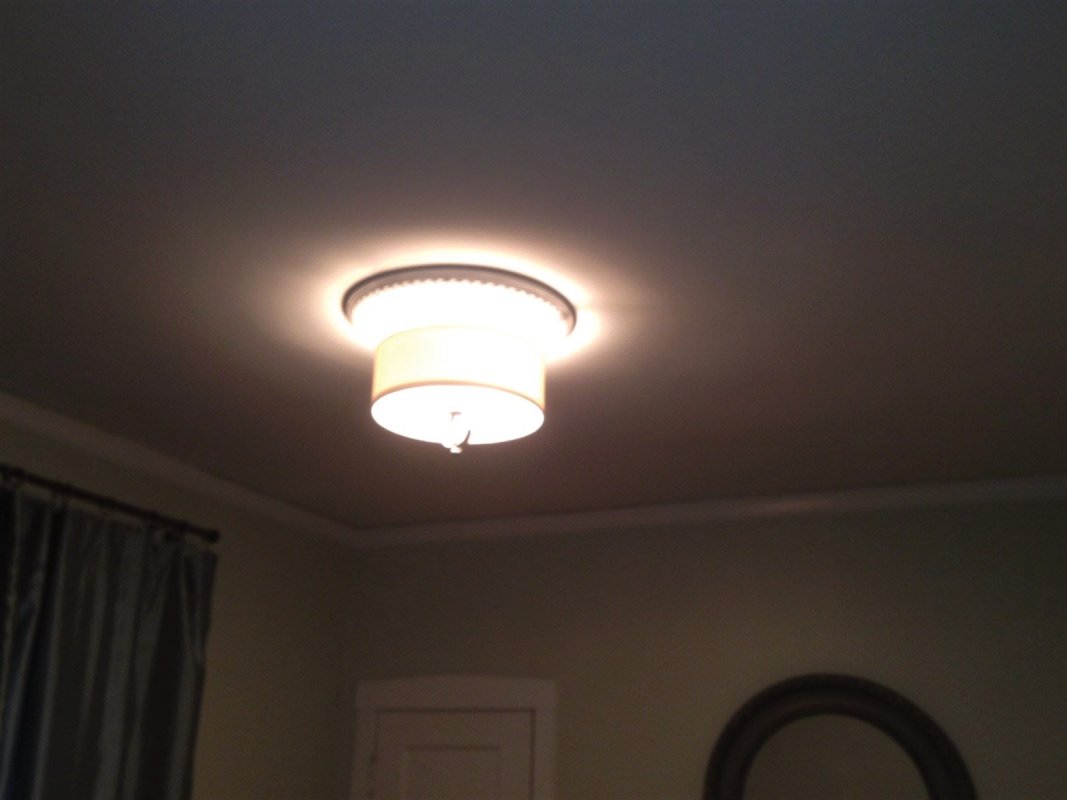 Last weekend I had the chance to meet a lovely lady in Andersonville who had purchased these beautiful fixtures. She found me on the internet by searching for old wiring experts, since her building is from the 1920s. She had been concerned
that the old wiring may not have been dealt with when the condo conversion was done. She was right, there were still some cloth-covered wires in use above the old fixtures. Fortunately, in this case they were not nearly as deteriorated or compromised as they usually are, and we were able to work with them. She was lucky; that is hardly ever the case. But by installing white extension boxes, which added an inch and a half of wiring space, we were able to keep the old wires in use by creating a cavity for them that would not force them to be crammed and jammed into tight quarters, which would both do damage to the insulation and restrict air space for ambient temperature cooling, which is vital in ceiling fixtures. These extension boxes were clean and white, and are hardly noticeable.
She was very pleased, and I was both glad to have a great new client and a tad envious of her beautiful lighting. She has excellent taste.
Thanks Mandie!

Today was not too bad as far as the weather goes. In the high teens, but sunny and not windy. That is fine enough weather for doing electrical work outside.
We did a lot of cutting and threading rigid pipe and assembling it today. In the top picture, Peter it toting a bag of concrete mortar, essential for patching up the holes and filling in around the conduits where they pass through the walls. In the second picture, you can see the 200 Amp Service meter housing roughed in. The 2" pipe exiting the right side goes out to the exterior wall, where we will run it vertically to a point about 15 feet above ground and then turn and run laterally to where it will end. The service head is put on, and the 3/0 THHN Copper cables are pulled through the pipe from up high down to the meter housing. At that point, the larger 3/0 Copper cables will terminate on the meter's internal bus detail, on the LINE side, giving power to each meter. From there, two sets of smaller Copper cables will be taken off the LOAD side of each meter socket, and they will run through the 1/1/4" rigid conduits that come out the back of the housing and go into the circuit breaker panels on the inside. These cables, then, are called the feeders for each 100 Amp circuit breaker panel.
We use the vice and hand threader to cut the threads on the end of the rigid conduits after we have cut them to the length we need each piece. Note the grey bucket below the threader. There is an oil can squirting gun that we use to continuously bathe the metal cutting dies as a lubricant while cutting. The cutting dies would bite and fight through the metal otherwise, and they may produce threads but you would destroy them very quickly.
We also have to cut many pieces of uni-strut, the metal channel you see in the bottom picture. We cut them to the desired length and then attach them to the brick wall with masonry fasteners. This, in turn, provides a uniform flat surface to clamp the pipe to.
It was a tiring, but good, day. You go home pooped on days like today!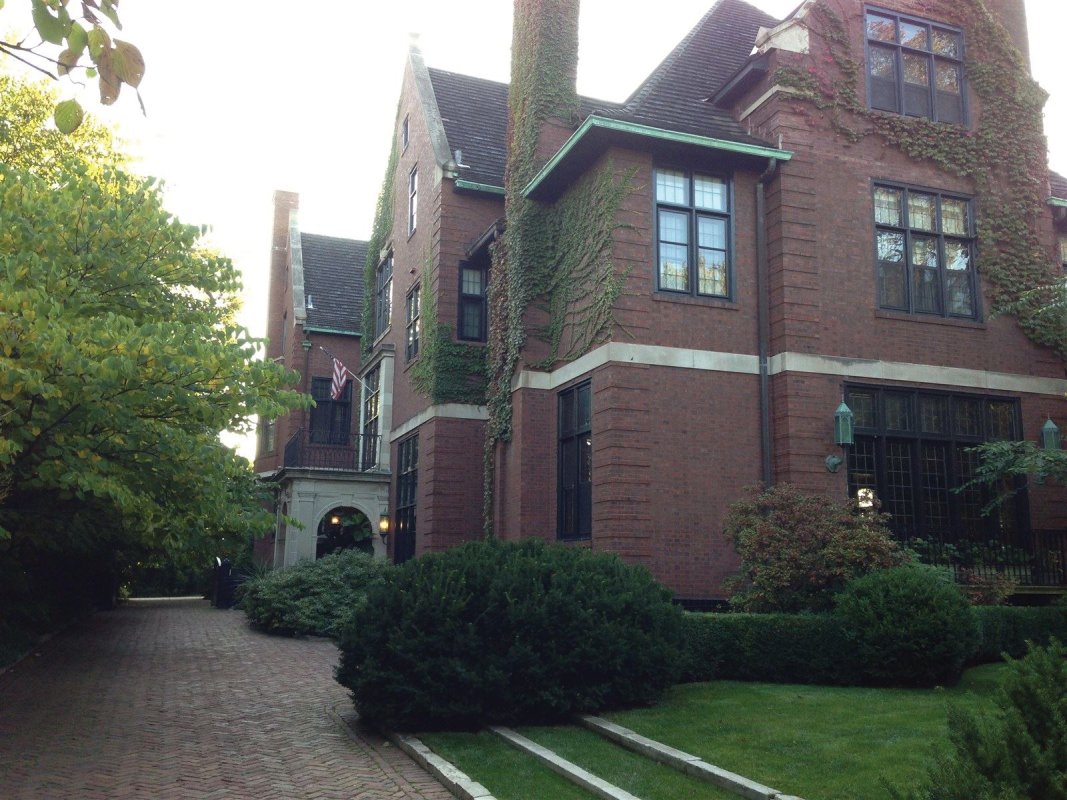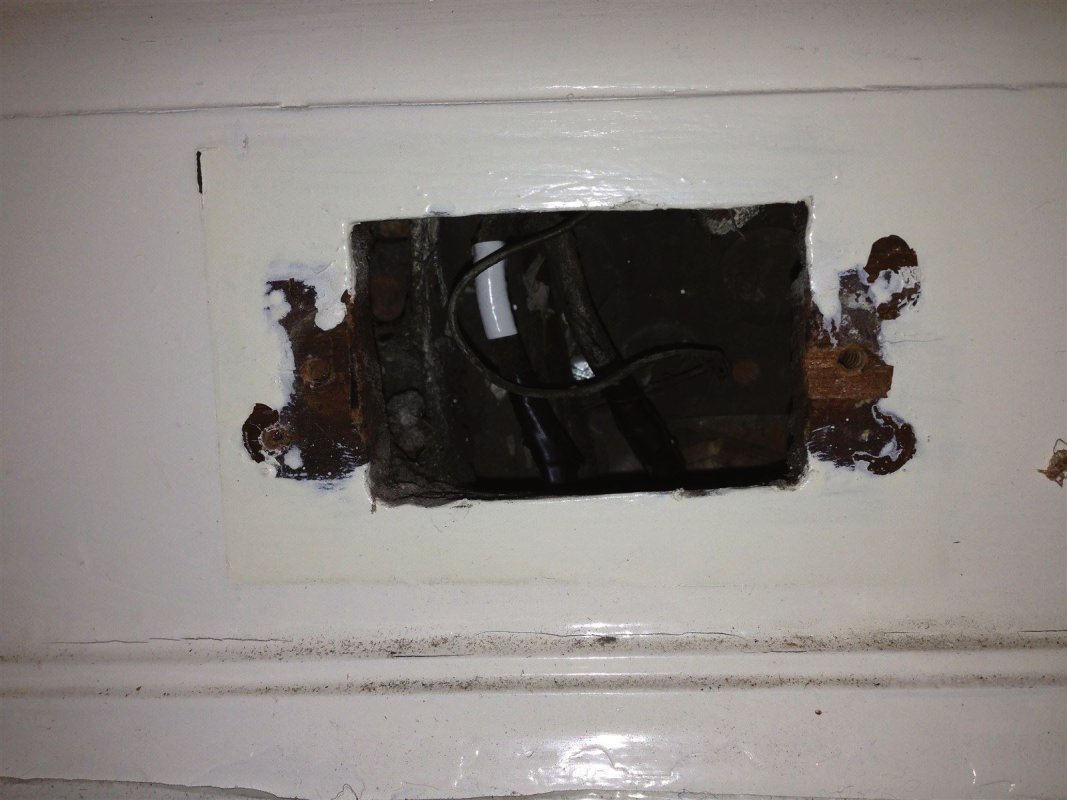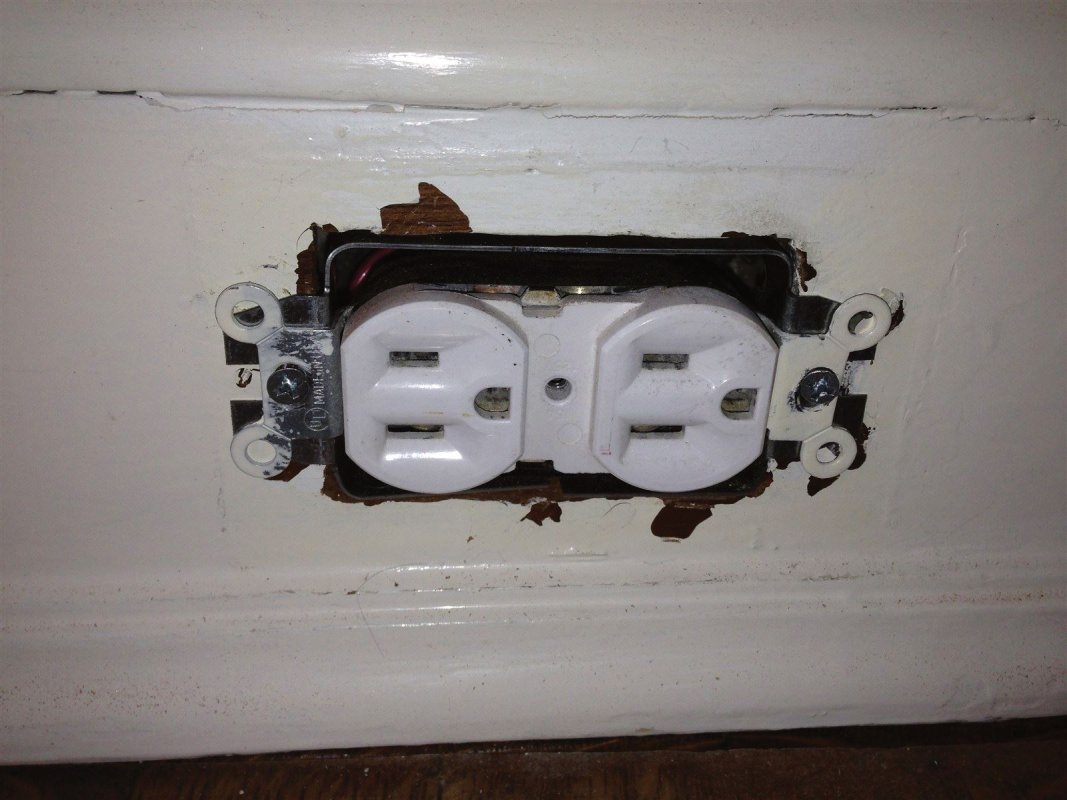 We are working in a magnificent Kenwood home at the moment. I don't know where the line between mansion and big house lies, but this classic old beauty is as elegant and fabulous as we have ever worked in. The woodwork is gorgeous, the marble foyer is worthy of it's own magazine layout, and the scale and dimensions of this lovely brick home are stately, yet comfortable. The family moving is will enjoy it and have many happy years there.
While this home was build to the state-of-the-art highest standards 100 years ago, the electrical system needed some help. In particular, there were dozens and dozens of outlets and receptacles that had been installed directly in the wooden baseboard, with no grounding connection to the metallic conduit-based grounding system and no metallic enclosures around the outlets to separate the live "hot" conductors from the wood. This was a very definite no-no. We have been working the past two weeks on re-doing these outlets. We are installing proper grounding conductors to bond them to the system ground, and we are widening the openings in the woodwork (Very carefully) in order to insert the proper metal protection for the receptacles.  This home will be much safer now.

A lady telephoned a few weeks ago to ask "how soon I could come out." The first question many people ask. In this case, soon was not soon enough.I asked her what the issue was, and after about 20 minutes or so we had walked all the way though the steps she could take herself. It was a very simple operation, really.  If I recall, she wanted to change a dimmer. I asked her her comfort level with this kind of thing. Since she had said she had already changed one switch, she seemed like the type of person who could easily replace a dimmer, taking the proper precautions. She was able to change it herself, I was able to share a little knowledge and empower a young homeowner, and off course she saved on an electrician's service call.

Here is a copy of the follow-up email I sent her. It includes valuable info for all you DIYers out there!

Hi J;
It was a pleasure "meeting you" over the phone yesterday. I am so pleased you had success with this project. It is a really good "Hey I did that!" feeling, isn't it? Plus it keeps a few dollars in your pocket!
The main things to always remember are:
1. Neutral wires carry current, not voltage. They can be even more dangerous than hot wires. ALWAYS TURN EVERYTHING OFF.
2. Breakers are often not identified properly. You might think you are turning a specific circuit off when you are not. ALWAYS TURN EVERYTHING OFF.
3. When you put in outlets or switches, (when power is dead, of course) take the time to wrap the metal screws where the wire attaches with electrical tape. That insulates them from accidental human shock down the line, or shorting the circuit if a grounded or hot wire gets inadvertently pushed up against them and makes accidental contact, especially likely in very crowded switch boxes.
4. These are the basic color codes for wiring in Chicago:
white
-neutral wire
gray
- neutral wire
green
-ground
red, black
-hot wires. these will always be hot, or live, when the breaker is on. They supply the power to outlets, switches, ect.
blue, yellow, orange
- switch legs  (wires that attach to the switch so they become hot when the switch is turned on, and they lead to the light fixture or whatever the switch is controlling. when the switch is off, they should be dead, or off.
purple, brown
- depends on situation. Not that common. Assume they are"hot" until proven otherwise.
Those are the basic color codes that electricians are supposed to follow. But at times they don't.  A white could be "hot" and a black could be neutral. Electricians and handymen sometimes use the color wire they have, if they are missing the correct one. I always use colored tape to identify the wire in such a case. If I am all out of white wire, I can use red wire as long as I clearly identify it with white tape. But they often don't. SO ALWAYS TURN EVERYTHING OFF.  (starting to see a pattern here?)
One other situation you may encounter. Folks use BX cable where there is no pipe. That cable comes factory-manufactured with a white and black wire in it. Newer BX has a green wire also. It also comes with 3 wires, white, black, red. But it is really common for folks to use a 2-wire BX to add a switch to a light that was previously a pull chain. In that case they fish that 2-wire BX down the wall to a switch box, and add the switch. Since there is only white and black to work with, they usually use the black as the hot to feed the switch, and then the white is used as the switched wire back up to the fixture. (The code actually allows this but I don't agree with the practice.)  But you should be aware of it for safety. It happens more in older homes. Where you find just 2 wires in a switch box, one going to each side of a switch, and they are black and white, the white is NOT a neutral. It will be hot when the switch is turned on!
Well I hope that information keeps you safe and helps you out in the future. Even if you don't do anything more complicated than yesterday, knowledge is power, right? Just remember, ALWAYS turn EVERYTHING off. A little excess in the name of safety is well worth it. You can reset your clocks when you are done.
Best wishes and always feel free to call if you need advice or a second opinion.
Most sincerely;
Peter

Peter McCarthy, President
Peter McCarthy Electric Co., Inc.
Chicago, IL 60615
Office:   773/947-9145
Mobile:  773/842-3649
hydeparkelectric.com
http://www.facebook.com/pages/Peter-McCarthy-Electric-Co-Inc/182746231761343
http://www.yelp.com/biz/peter-mccarthy-electric-co-inc-chicago
Angie's List Super Service Award  2003, 2008, 2009, 2010, 2011, 2012
Member, Electrical Section, National Fire Prevention Association
Hyde Park Chamber of Commerce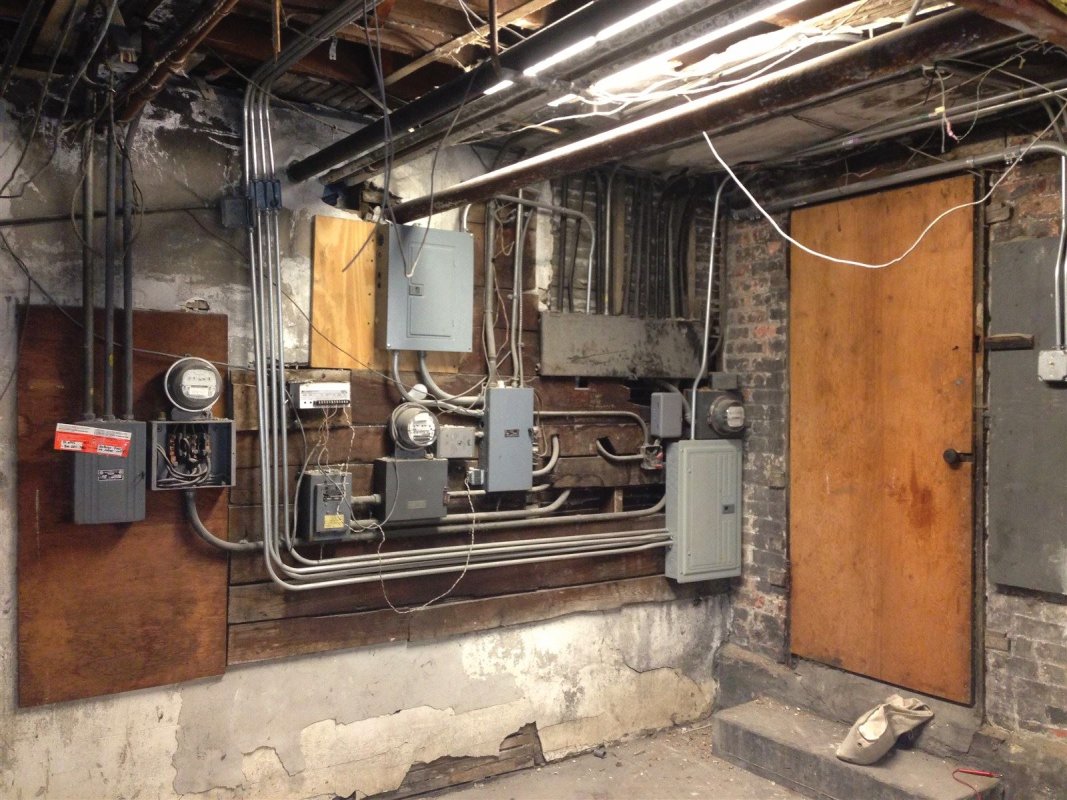 Here is an array of very old, dangerous and Hodge-lodge electrical work in a multi-unit building in Hyde Park.There is vintage 1920s original electrical work, with several subsequent generations of add-ons.  It needs to be replaced, for sure. It took me about an hour to unravel the whole thing, what is there and where it goes, what is missing, ect.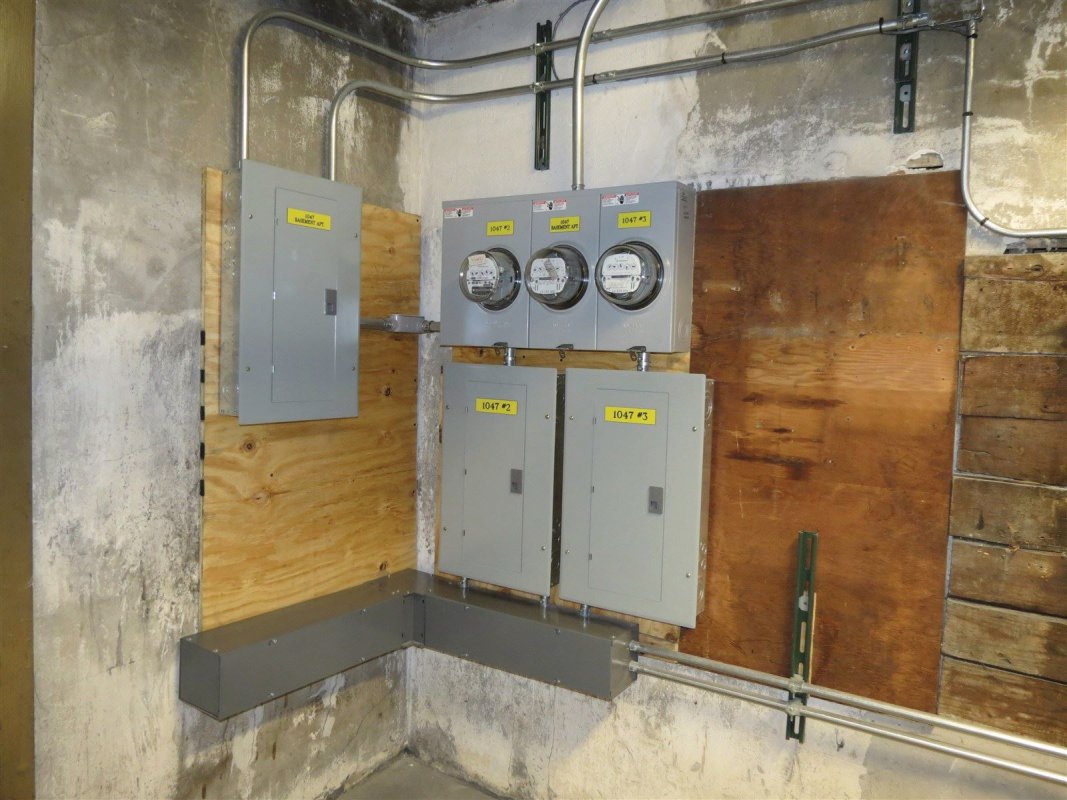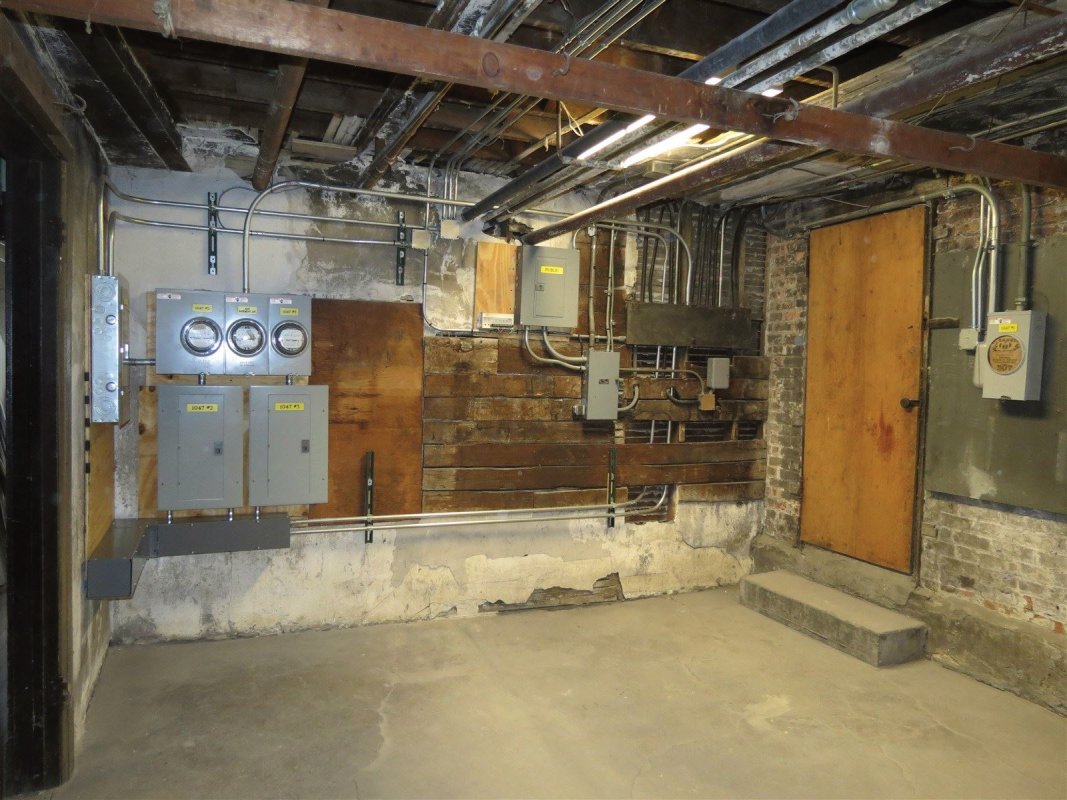 I will be submitting the proposal today. We will see if I get the job. If we re-do it, the "after pictures will be posted in the future.
10/16/13
Well, here we are in "the future."  Quite an improvement, don't you think?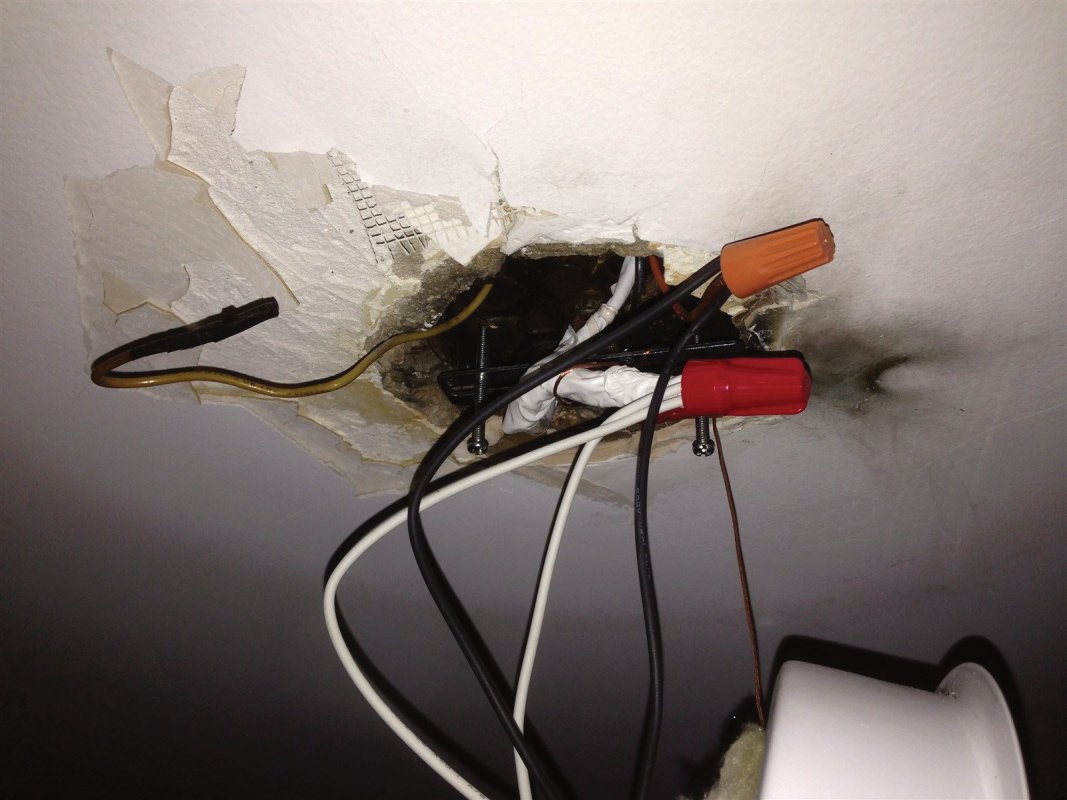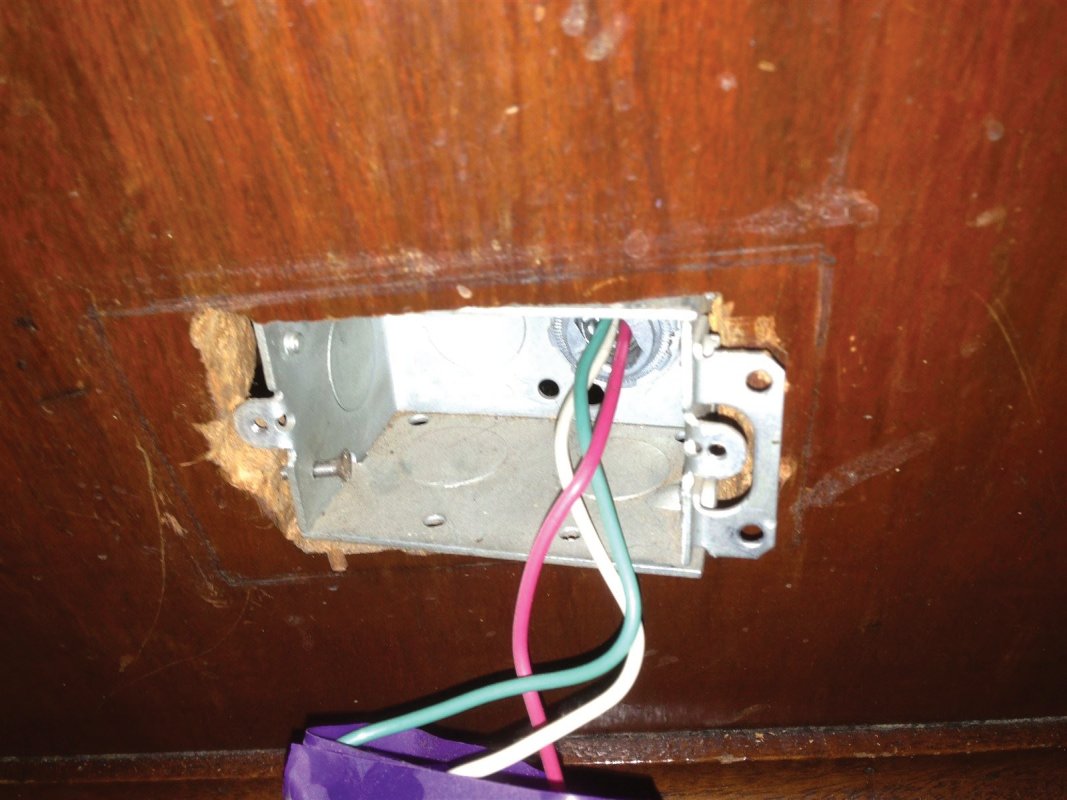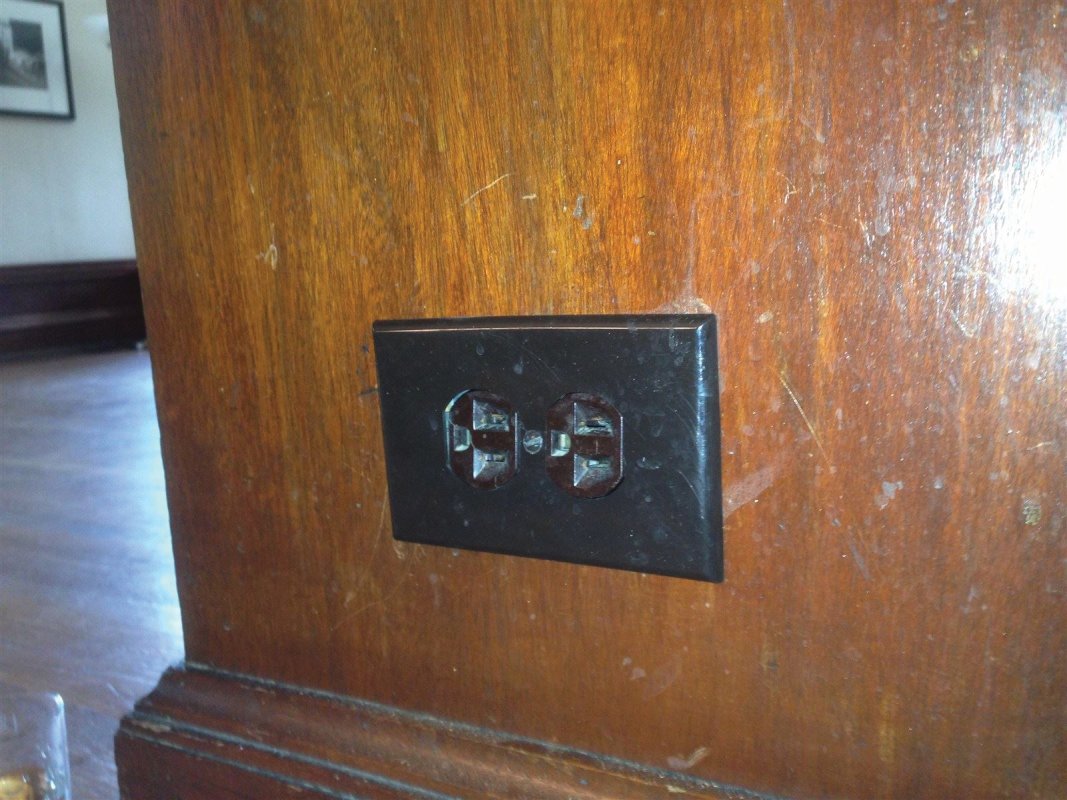 It has been sooo busy this summer, I have hardly had a moment to write. But I really appreciate all the comments I have gotten from everybody, and I'm so glad this blog has been able to shed a little light on everything old and electrical for you. SOMEDAY I will get a real, bona-fide IT pro to show me how to reply to you on here!
I did a service call yesterday in a GORGEOUS Hyde Park Condo on Woodlawn. The plaster moldings and mahogany woodwork were simply to DIE FOR, Dah-ling....Real old school craftsmanship. Beautiful.
The fixture that had been in place was a halogen that was throwing off way too much heat, as you can see by the burn mark on the plaster. It had burnt through on the wires feeding it. Fortunately, this place had been rewired so I was able to strip back and re-splice the conductors. Also fortunately, the fixture was deep enough that I was able to retrofit with a bracket and a reduction fitting off the original black iron threaded base, so we could hang the new one w/o too much hassle.
As I was leaving I noticed the outlet in the mahogany column very loose with a bent trim plate. I asked her if she was aware of that, and she said yes, but they did not know what to do about it. I had already written the bill, so this was a free-bie. I was on a mission. Just can't leave something like that alone once I see it. So since I knew how to fix it, I did.

/